Ninjas are Rushing to an iPhone Near You in Frostware's Upcoming Game
Ninjas are on an uptick when it comes to games on the iPhone. And it's no surprise to see Frostware's latest game to be ninja-centric, with an apt title called Rushing Ninjas. In the game, the last known ninja clan fights for its survival against on the onslaught of the fearsome demon samurai clan.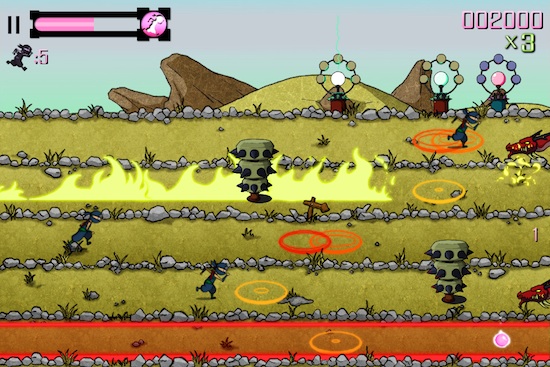 The brave ninjas will charge forward and its the players' job to make sure they get across the screen alive, oh, while avoiding obstacles like dragons, spike traps and of course, demon samurai. The game boasts a simple, one-touch gameplay whereby players swipe up or down the screen to control where the ninjas will be running to.
The game is a test of the the player's ability to multitask and keep a cool head under pressure while they are striving to collect bonus orbs, earn multipliers for their scores and ultimately conquer achievements. Frostware's newest game contains beautiful hand drawn graphics and animations with full Retina Display support. The game supports Game Center and features over 20 different achievements to strive for.
Stay tuned to Nine Over Ten 9/10 for more news on Rushing Ninjas.
Powered by

Sidelines
Previous Post Defend the Nest! Pigs in Trees (iOS) Trailer Highlights the Plight of Tree-Dwelling Swine
Next Post Ninja Fishing (iPhone) Review: Slice 'em Dice 'em, Be A Sashimi Master