Ice Tales (iPhone) Review: It's One Glorious Retro Arcade Game
You know what I like most about Widget Revolt's latest game on the iPhone? First is the soundtrack, and then the gameplay. Ice Tales for the iPhone is a retro-inspired arcade title and the background music brings back memories of games such as Dig-Dug, Mappy and even Ice Climber.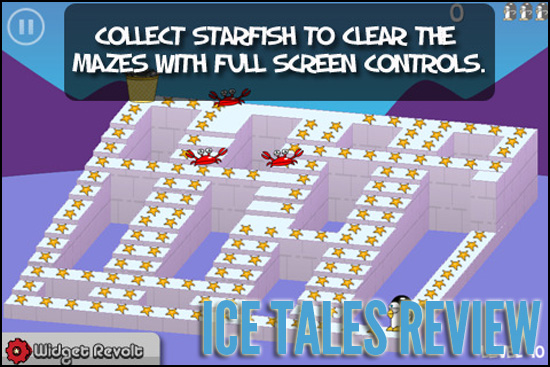 In terms of gameplay, players are supposed to guide Pendleton the Penguin through the iceberg levels, collecting starfish and other items while trying not to be eaten by other creatures on the iceberg. The controls are unique in a sense that they make use of the entire touchscreen real estate. Players swipe left, right, top, bottom, to get a move on Pendleton.
Some of the creatures such as seals and crabs can be jumped over (by tapping on the screen) in order to stun them, while other creatures such as squids can be attacked if they are preoccupied while seagulls are generally best avoided. There is a power-up that can be obtained to gain temporary invincibility though, and it's useful in certain situations.
There's plenty of frantic challenge here on Ice Tales, think of it as a different sort of Pac-Man "meets" Lemmings. Some of the levels are multi-tiered and it's possible to trap some of the troublesome creatures on a different tier while you go about doing your business of collecting starfish (I chuckle loudly whenever this happens, it made me feel smart).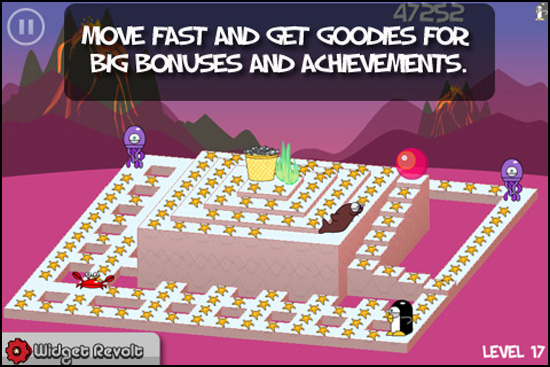 Ice Tales also has Game Center connectivity, catering for leaderboards and achievements, and these are pretty common for even casual games such as this nowadays. Nine Over Ten 9/10 rates Ice Tales with a 4.5 / 5. HIGHLY RECOMMENDED. Do check it out over at https://itunes.apple.com/us/app/ice-tales/id418145590?mt=8 and it's only 99 cents!
A review code was provided by Widget Revolt to Nine Over Ten 9/10 for the purpose of this review.
Powered by

Sidelines
Previous Post Some of My Favourite iOS 5 (Beta) Features
Next Post Heavyweight Champion David Haye Makes iPhone Game Debut, In Rather Bad Taste