Heavyweight Champion David Haye Makes iPhone Game Debut, In Rather Bad Taste
The game that I'm about to preview looks really violent (judging from the promo art), so my apologies for the bad taste. While I don't doubt the press release e-mail that states that Heavyweight Boxing Champion David Haye is using Grubby Hands Ltd's upcoming David Haye's Knockout (for the iPhone) to prepare for his next bout, but come-on man, what the heck is this, Mortal Kombat?!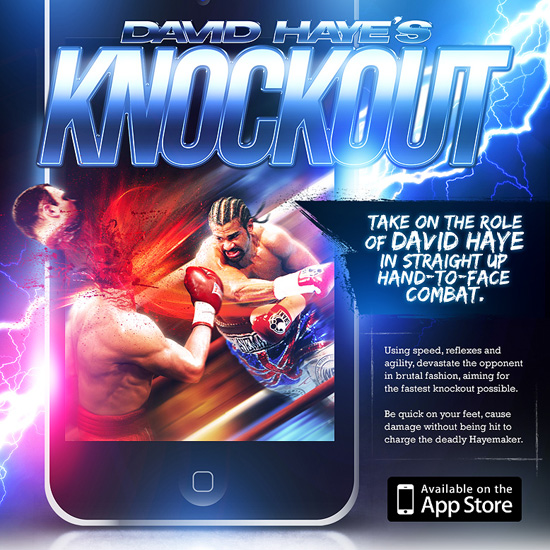 GRUBBY HANDS IS PROUD TO PRESENT DAVID HAYE'S KNOCKOUT
Just three months after the closure of Activision's award-winning developer, Bizarre Creations. New independent developer, Grubby Hands, has risen from the ashes ready release its first game "David Haye's Knockout" on the iPhone and iPod touch. Accessible, exciting and gloriously bloody, David Haye's Knockout matches a pixelated Haye with an anonymous Russian heavyweight, charged with the aim of making mincemeat of his taller foe.
WBA champion Haye has even been using the fast-paced beat-em-up game for inspiration and ideas in between recent training sessions for his upcoming heavyweight title fight. The one-of-a-kind game was created by the heavyweight champion's talented cousin, Danny Haye-Pearce, the director of Grubby Hands Limited. Having worked on hit games, including The Club, Blur and James Bond 007: Blood Stone, Danny has brought a wealth of experience to the table to materialise this game.
Easy to learn, but tough to master, David Haye's Knockout places just as much emphasis on evasiveness and defence as it does on the crucial finishing blow. Once momentum builds and a player gains the upper hand on the big Russian with a series of debilitating Hayemakers, the game takes you into 'Matrix mode', the screen begins to shake, the ring wobbles, punches connect in slow motion and stars begin to circle the head of the bewildered opponent.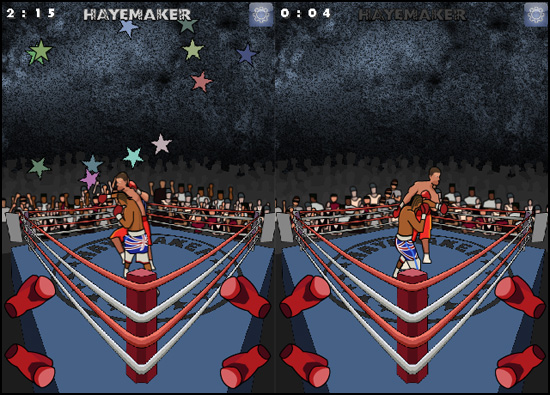 Crucially, should Haye do enough damage to the Russian, there's a good chance you'll even see the beaten man's head fly off and land in a ringside seat. "There is a hidden secret in the game where you can literally knock the Russian's head off his shoulders when you land a perfectly timed Hayemaker," said the WBA champion. "I love it!". "I also love the fact that you can taunt and trash-talk your opponent by shaking the phone… Right up my street!"
"There will come a time when you've obtained 90% of the trophies and you're reading through the remaining ones, strategising about how to achieve the last few," said Danny. "You can't just wing it – you need to decide how you're going to tackle the next fight to get the trophy, it's a bit like a puzzle. You end up trying countless strategies before finding the one that cracks it."
"A big attraction in this game is the one-upmanship amongst peers when competing in the local scoreboards" said Danny. "Our score table is filled with knockout times just seconds apart, we're constantly going back to try to get that slightly faster knockout."
The developers are already looking into ways to extend this game with updates. They're talking about adding more wacky trophies, global leader-boards and bragging rights with Facebook and Twitter integration, among other surprises! Join the fun, David Haye's Knockout will be available to download on the AppStore on Friday 10th June.
Powered by

Sidelines
Previous Post Ice Tales (iPhone) Review: It's One Glorious Retro Arcade Game
Next Post 9magnets LLC Releases Hero Defense Redux (iPhone) For Free!