GAMEVIL Launches Its First Social Mobile Game, Chalk n' Talk
Looks like every established game publisher is jumping on the social gaming convention. First Tapulous, and now GAMEVIL, the publisher of highly popular mobile games such as Illusia and Kami Retro. They have come up with their first social media game, titled Chalk n' Talk.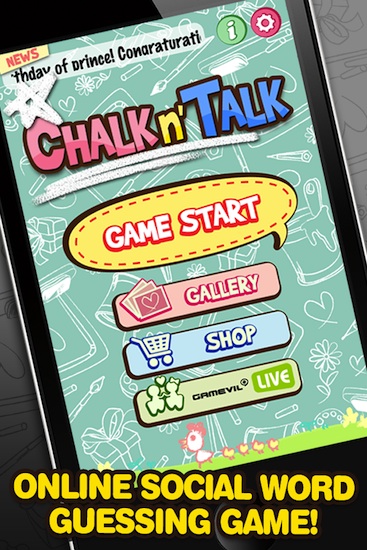 LOS ANGELES, CA – April 8th, 2011 – GAMEVIL(R), a leading mobile games publisher and developer announced Chalk n' Talk now available on the App Store. The app, developed by AP Games and GAMEVIL, is available for iPhone, iPod touch and iPad.
Chalk n' Talk brings players all over the world together in an real-time online social drawing and word-guessing game. Players will race against the clock to sketch and guess a given word, while earning points that can be spent on customizing brushes and canvases or even gifted to friends.
Artwork that users are especially fond of can be submitted to the world gallery to be rated for accolades. By connecting to GAMEVIL Live from the game, players can grow their network of friends to enjoy the experience together – automated matchmaking presents an endless roster of new challengers or private rooms can be created to chat and play with close friends.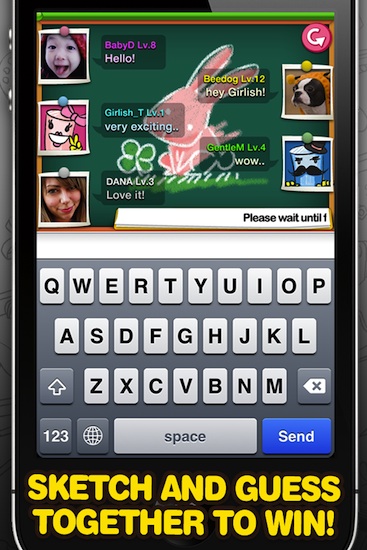 "Chalk n' Talk starts with a simple idea and deftly combines mobile, social and real-time aspects into a very complete game experience," said Kyu Lee of Head of GAMEVIL USA. "As one of our first titles to focus on mobile social network gaming, we're excited to bring Chalk n' Talk into our expanding lineup of quality games."
"We expected that different kinds of games would be successful in today's smartphone market compared to past mobile phone games." said Jae Woo Kim, CEO of AP Games. "We thought about what could be the optimal, fun experience on a networked touchscreen device, and the answer was Chalk n' Talk."
Chalk n' Talk is available for free from the App Store on iPhone, iPod touch and iPad, or at www.itunes.com/appstore/.
Powered by

Sidelines
Previous Post Trade Swords for Track Shoes and Javelins with Spartan Athletics for iOS
Next Post Squid Drop (iPhone) Game Review: Fun in Great Depths!