Tapulous Launches ClubWorld (iPhone) Feat. David Guetta and Tiesto
It seems like everyone is jumping into the realm of freemium social games, with the latest being Tap Tap Revenge publisher Tapulous. They have just launched their first free social tycoon game called ClubWorld and it features not one but two heavy hitters from the clubbing scene, DJ Tiesto and David Guetta! Yup, you read that right, now check out the press release below for more info: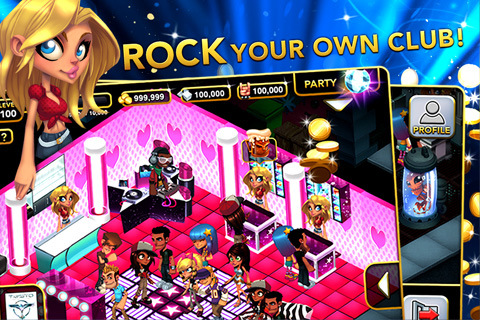 Tapulous Launches ClubWorld On The App Store New Real-Time Social Tycoon Game Lets Users Design Night Clubs, DJ and Showcase Clubs by World Famous DJs Tiësto and David Guetta
PALO ALTO, Calif.—April 7, 2011 — Tapulous, maker of Tap Tap Revenge, the blockbuster music game for the iPhone and iPod touch, launches the company's first foray into real-time social tycoon gaming, ClubWorld, today on the App Store. The ClubWorld App transforms players into nightclub VIPs, giving them the ability to design and operate their own club, play select music from iTunes or purchase and download new music on the iTunes Store.
The ClubWorld App also features branded clubs from two of music's biggest DJs and producers, Tiësto and David Guetta. "I'm a huge fan of music games and all genres of music, so I was excited to work with Tapulous on ClubWorld," said ground-breaking DJ and producer Tiësto. "I love that the game turns the fantasy of having your own club into a reality. There is amazing energy when you bring people together to listen to music and it's that feeling that really drives me and all that I do."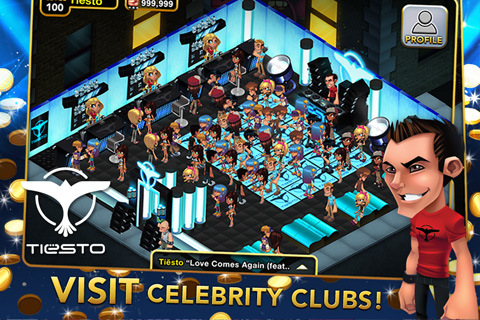 Tracks from Tiësto's new album, Club Life, Vol. 1 Las Vegas, can be heard in his ClubWorld mix. "I spend my life in clubs spinning music around the planet; its energy, it's my passion and it brings people together" said Grammy award-winning artist, producer and DJ, David Guetta. "ClubWorld is a great game to build one virtually and share favorite music and experiences with others."
In the ClubWorld App, each player hires a DJ, bartender and bouncer to operate his or her club, which can then be customized with the player's choice of furniture, speakers, dance floor, bar and more. Players can also visit the ClubWorld main street to enter other players' clubs and make new friends through the app's innovative music matchmaking system. In addition to Game Center support, the beautifully rendered visuals are optimized for the Retina Display on iPhone 4.
ClubWorld also includes mini-games that take advantage of Multi-Touch interface and accelerometer on iPhone and iPod touch. "Tapulous has once again redefined the music gaming experience on the iPhone with the launch of ClubWorld," said Bart Decrem, co-founder of Tapulous.
"The app takes the aspirational experience of owning your own club, filling it with your favorite music and friends and makes it not only mobile, but incredibly fun. With Tiësto and David Guetta – hands down two of the biggest DJs in the world – featured in this app, showcasing their own clubs is a testament of the quality of the ClubWorld App."
The ClubWorld App is available for free from the App Store on iPhone and iPod touch or at https://itunes.apple.com/us/app/clubworld/id421251265?mt=8
Powered by

Sidelines
Previous Post Aeroflick (iPhone) Review: One of Those Paradoxes
Next Post Trade Swords for Track Shoes and Javelins with Spartan Athletics for iOS