Venom (Marvel Comics) Goes All Super Soldier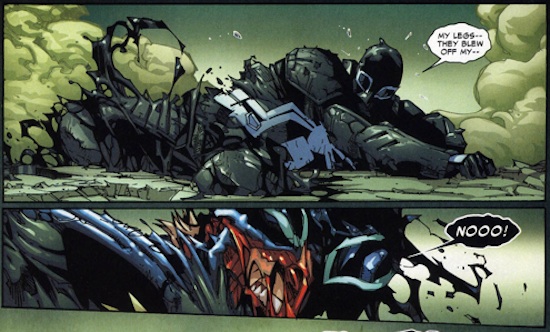 It's pretty interesting to see what's going on with Marvel Comics' storyline these days. Johnny Storm is dead, and Spiderman is his replacement in the newly renamed Future Foundation (previously known as Fantastic Four). Now we've got VENOM as a viable supersoldier replacement to Captain America (it's even dubbed as Project Rebirth 2.0!). And who is the host? None other than Flash Thompson.
It looks like an interesting diversion and already 2 issues into his debut, he has let the alien symbiote take over once, leading to one bad guy (yes, Venom's the good guy now) losing his arm to some..er…chewing action. It will be pretty interesting to see how this goes about as Venom is getting his own book in March 2011.
Powered by

Sidelines
Previous Post Boxhead: The Zombie Wars Promo Code Giveaway!