Mr Bean: Out of Control (iPhone) Game Review
What a strange day, I actually sat down to review two different iPhone games featuring characters from two cartoon programmes available on the Disney Channel. Earlier today you read the review on Pucca Noodle Rush, and now, I'm bringing you the review for Mr Bean: Out of Control. This game by Zattikka Ltd is based on the Mr Bean animated series by Tiger Aspect which is a regular on the evening timeslot on Disney Channel Malaysia.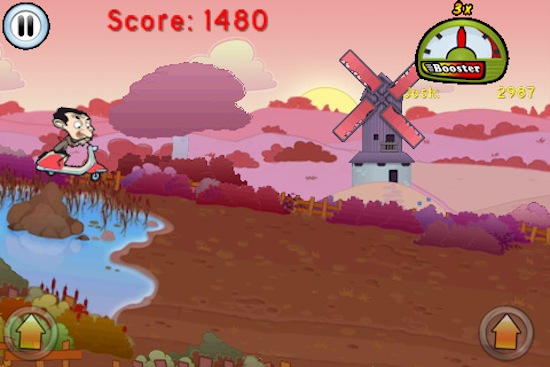 Like the game's title implies, fans of Mr Bean will get to see him go off the beaten path (downhill to be exact), depending on the difficulty level, on his scooter or his car, and his brakes are shot! The objective is pretty simple, get Mr Bean to travel as far as possible and avoid hitting large obstacles like boulders, lakes and even subway entrances. Players can do so using two buttons on either side of the screen, one causes him to jump, the other, to duck.
Smaller obstacles are useful to help slow Mr Bean down as the longer the player lasts throughout the level, the more speed Mr Bean builds up. A boost meter also fills up as the player goes through the level, allowing players to employ a "boost-jump" over obstacles. Needless to say, players will need a lot of concentration, finger coordination and judicious use of the boost-jump to clock in the distance.
The hard mode is really funny and it's the star of this game as it sees Mr Bean sitting not in the car, but on top of it, on a single-seater sofa., at night! LOL. I'm pretty sure there's an episode in the cartoon series with him doing exactly that! There's also an online scoreboard although Game Center integration would be nice to foster even more friendly competition.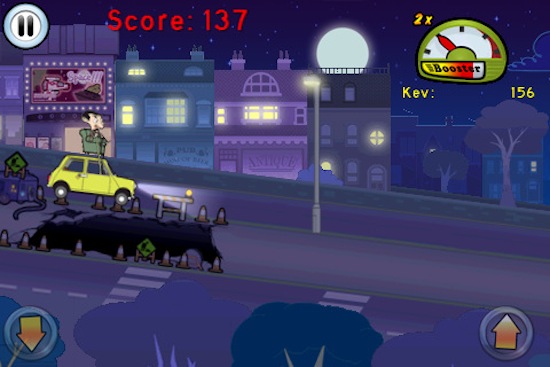 Mr Bean: Out of Control is one of the cooler "themed" distance games based on an official license. The sound effects and graphics remain true to the animated series. Having said that, the game is a fun distraction; it's a great one for the kids as well.
Nine Over Ten 9/10 awards Mr Bean: Out of Control with  a 4/5. RECOMMENDED.
Mr Bean: Out of Control is available on the iTunes App Store for USD 0.99. Check it out over here: https://itunes.apple.com/us/app/mr-bean-ooc/id399601423?mt=8. A review code was provided by Zattikka Ltd to Nine Over Ten 9/10 for the purpose of this review.
Powered by

Sidelines
Previous Post Pucca Noodle Rush (iPhone) Review: It's A Blast
Next Post GAMEVIL Releases 2010 Financial Results: It's A Doozy!