Valentine's Day on the iPhone: New Content for Diner Dash, Hotel Dash & Cooking Dash
Fans of PlayFirst's DASH games (Diner Dash, Cooking Dash, Wedding Dash, and Hotel Dash) are in for a treat this Valentines' Day as the games are serving up new content! Check out the following press release for more details, including that of a new Dash game!
February is for iPhone Lovers – DASH Titles Serve New Content for Valentine's Day
Hungry patrons the world over have downloaded iPhone developer PlayFirst's DASH apps more than 10 million times; from Diner Dash, to Cooking Dash, to Wedding Dash and Hotel Dash, the DASH series has served four courses of the most appetizing of apps, with each new entree hitting the top of the charts.
PlayFirst bestowed the gift of DASH to iPhone gamers and rang in the New Year with Diner Dash, participating in a special holiday promotion on the App Store. The DASH titles quickly hit the #1 free app in 8 countries, and into the top 5 free apps charts in 20 countries, including the United States and China. That's a lot of dishes served on the iPhone and iPod touch, not to mention the over $800 billion in virtual tips players have earned in DASH games!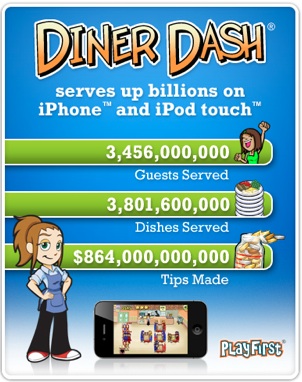 With February upon us and new iPhone aficionados emerging with the arrival of the iPhone for Verizon, PlayFirst sweetens these must-have apps, with new content coming to each of the DASH games. We invite you to peruse these 'specialties of the house', compliments of the most popular gaming franchise in the App Store!
Hotel Dash – the latest DASH iPhone App – New Content Now Live!
Alpine Ski Lodge – A free in-app download perfect for those après-ski moments.
Tiki Palace – Escape the wintry weather with an island themed excursion for an in-app purchase of 99 cents.
Diner Dash – a true App Store classic! – New Content Now Live! One of the first and most beloved games for the iPhone, Diner Dash is the #1 time management game in the App Store.
Sweetheart Café – An all-new bistro for the romantics of DinerTown, complete with Valentine's themed décor, and red roses to deliver to diner's tables.
Cooking Dash – a tasty time management morsel. Grand opening of two new venues coming soon:
Salt Lick Saloon – Rustle up some grub for hungry customers in a down home themed restaurant.
Safari Grill – Slicing and dicing in a safari themed eatery where the natives are always hungry!
And Coming Soon to iPhone:
Soap Opera Dash –  The newest spin on the DASH franchise, granting you a backstage pass to Soap Opera fun
With more than 150 million DASH play sessions in 2010, and average play session of around 20 minutes, DASH games satisfy much longer than most gaming App-etizers. Featuring games that are created specifically for these platforms and offering one of the most popular brands in casual gaming, PlayFirst and the DASH games are a perfect pairing for App Store success.
Powered by

Sidelines
Previous Post Raptor: Call of the Shadows (Mac) Review: Triple-A Retro Shmup Action