Paper Train: Reloaded (iOS) Game Review, Top-Notched Graphics In The Least Expected Way
Paper Train: Reloaded is probably the third or fourth railroad game I've played on the iPad this year. It just goes to show how wide the market is on the App Store, as a majority of these games are well received. The Hungarian indie developers of Paper Train: Reloaded, isTom Games, are no strangers to the genre with several releases since 2012, but with this new game they answer the question of what do you do to differentiate your title in a crowded field of similar games.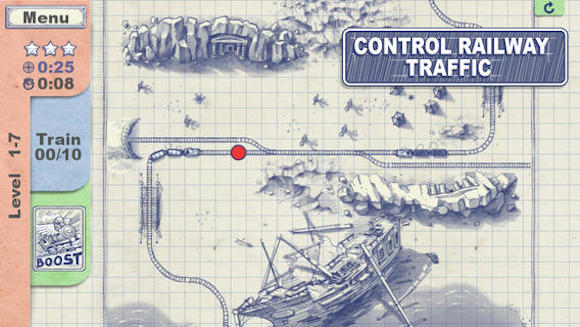 In a genre where realism seems to be the high watermark to achieve, games such as Rails (read the review here) often take the spotlight. Paper Train: Reloaded takes the opposite direction by going for a very stylish art style which is reminiscent of exercise book sketches with a surprising amount of animation going on in each level, and it's not just the trains I'm talking about. The levels take place in exotic and I must add, absurd environments. Fancy guiding your trains pass an AT-AT walker wreckage or an airplane graveyard? Yup, you'll get that here in Paper Train: Reloaded.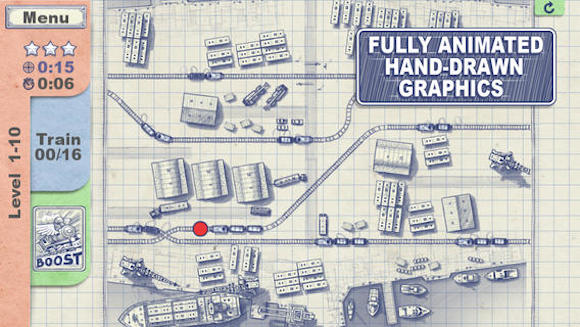 The premise of the game is real simple, you control the railway traffic using a series of stop and go lights, and there's a convenient boost button to speed up the proceedings. All you need to do to is to complete the levels in within certain time milestones and prevent the trains from crashing into each other. The full game comes with 300 levels, which is mind-boggling… those level designers and animators must have a field day coming up with all that content, but kudos to isTom Games for the effort.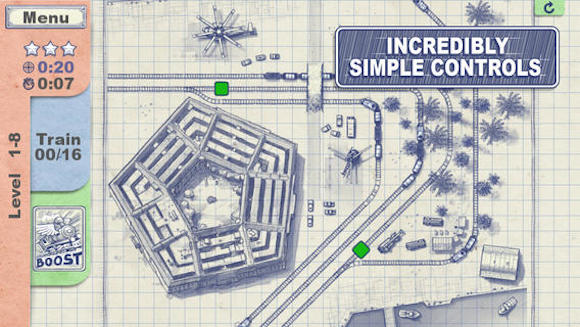 There's nothing much to critique about Paper Train: Reloaded, and I'm still in awe of the graphics and the level design. This is one game that will fill your lazy Sunday afternoons with a lot of fun. Nineoverten.com rates Paper Train: Reloaded at a 5 out of 5. The game is now available on the iTunes App Store for free with in-app purchases: https://itunes.apple.com/us/app/paper-train-reloaded/id703332930?mt=8
A review code was provided to Nineoverten.com for the purpose of this review.
Powered by

Sidelines
Previous Post Star Wars: Tiny Death Star (iOS, Android, Windows Phone) Arrives on App Store
Next Post Brand New Action Puzzler TriGrid (iOS & Android) Available for FREE