Quadropus Rampage (iOS) Game Review: More Awesome Goodness From The Makers of Towelfight 2
Some video game studios are known for the type of games that are churned out from their doors. For example, id Software is well known for its cutting-edge 3D first-person-shooters and Bethesda is notorious for well-received but bug-prone RPG titles. So, if there's one thing Butterscotch Shenanigans is good at, it would be coming up with action-packed casual games filled with irrelevant characters.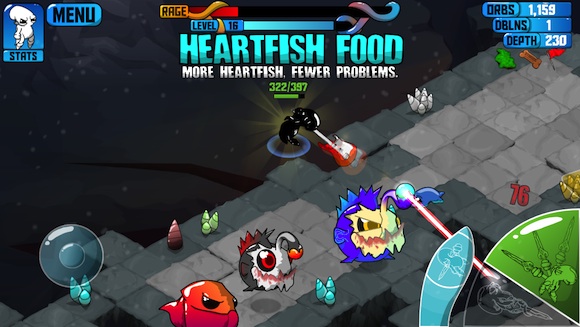 Their latest iOS title, Quadropus Rampage simply betters their previous title Towelfight 2 in every aspect, and since the latter scored a 5 out of 5 in our review (read it here), this would mean that Quadropus Rampage is plenty awesome. The room-to-room exploration prevalent in Towelfight 2 have been replaced with more organic levels which are bigger and feature an isometric view. The action takes place under the sea as players assume the role of Tack the Quadropus (he looks like a Sectoid from X-Com), out to stop Pete, God of the Sea from acting up against surface dwellers.
Due to this premise, you'll find plenty of sea creatures out to stomp Tack out of existence. Despite the overwhelming odds, the game shines as an out-and-out brawler as players pick up procedurally generated weapons like the ones you find in Diablo III/Torchlight 2 but with even weirder mashup of attributes (have you tried running around with a pair scissors which somewhat boost your defence?) and proceed to lay on a beating on these errant creatures of the deep.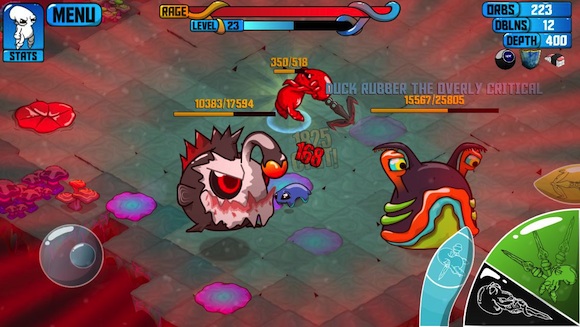 The controls are excellent and offer up other options other than laying on the pain on enemies. With the ability to dodge, block, stab, smash and spin your way out of trouble at your disposal, Quadropus Rampage suits a variety of play styles. In my case, I usually go for the direct route and die trying. LOL. Players are rated by how deep they go as each level advancement brings you deeper and deeper into the sea. Orbs earned in the game from killing enemies and opening treasure chests (after clearing out a level) can be used to upgrade Tack's attributes, bringing in an entirely necessary but not overwhelming RPG element to the game.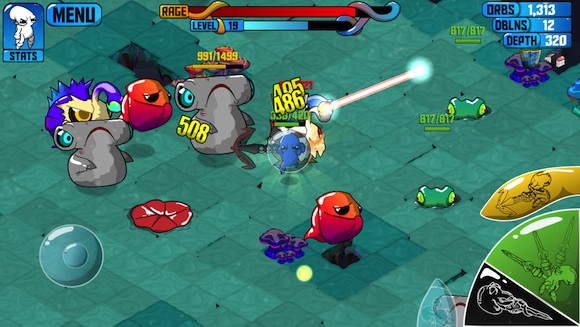 Graphics-wise, the game looks awesome in colourful 2D and the organic (read: procedurally generated) levels unencumbered by rooms are a joy to roam around with plenty of embellishments to look at. I honestly recommend playing the game on an iPad to take in everything. Nine Over Ten 9/10 rates Quadropus Rampage at a 5 out of 5, and this is another feather in the cap for Butterscotch Shenanigans.
The game is available for free on the iTunes App Store, with the option for IAP purchases. Check it out over here: https://itunes.apple.com/us/app/quadropus-rampage/id635874036?mt=8.
A review code was provided to Nineoverten.com for the purpose of this review.
Powered by

Sidelines
Previous Post Space Hulk (PC & Mac) Now Available For Pre-Orders on Steam
Next Post Satisfy the Thirst of Your Alien Overlords in Super Juice Master 5000 (iOS)