Lost Tales of Egypt HD (iPad) Game Review
Using an iPad with Retina Display can most certainly leave someone spoilt. I was taking screenshots of my iPad's home screen the other day and I noticed the rather large picture files when the shots arrived on my MacBook Pro via Photo Stream. The amount of detail available in each shot however justified their size.
In any case, I do wish sometimes for developers of certain kind of games to up their ante a little bit and support the native resolutions of Retina Display iPads. Most of the time they are just contented to slap on the HD tag simply because the app is "iPad compatible". I had the opportunity to review Selectsoft's latest hidden-object game, Lost Tales of Egypt HD, and it was a mixed bag.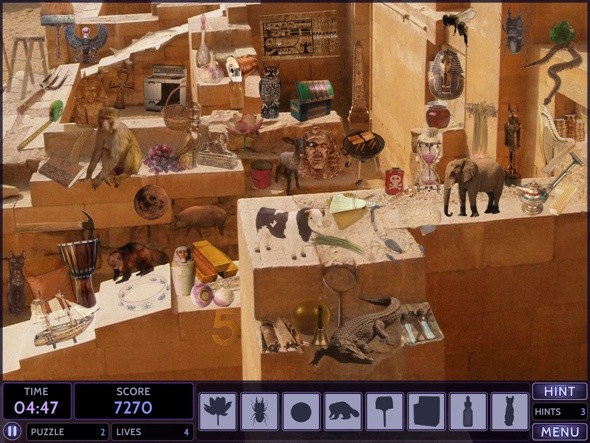 The game had one thing that I really like though, support for multiple user profiles. It's such a rare thing to see in iOS games and I was pleasantly surprised to see this in Lost Tales. Now to the part that makes the game such a mixed bag. The thing about most hidden object games that I've played or reviewed is that they tend to be hand-drawn, and with that, it's easy to start with high-res, and work downwards.
Lost Tales however employs photographs, and with photos, you are only as good as your source files. This results in a pixelated mess which gets even worse when you zoom in. It's a shame though as each level is populated with a chokeful of items, and you are tasked with looking for just specific ones, either through a written list or a list of shapes.
The game can certainly benefit from immediate improvement to the quality of photos as there really nothing wrong with the gameplay. Nineoverten.com rates Lost Tales at a 4 out of 5, flawed but definitely worth checking out.
Lost Tales is now out on the App Store: https://itunes.apple.com/us/app/lost-tales-of-egypt-hd/id596992480?ls=1&mt=8. A review code was provided to Nineoverten.com for the purpose of this review.
Powered by

Sidelines
Previous Post New Resident Evil Revelations Gameplay Video (Xbox 360, PS3, Wii U & PC)
Next Post Comparing Online Gaming Between Tablets and Mobile Phones