Chuck the Bot (iOS) Game Review
GearSprout's latest iOS title, Chuck the Bot brought a smile to my face as the wordplay in title not only described the name and nature of the game's protagonist (his name is Chuck, he is a robot), but also the gameplay involved, where you have to chuck poor Chuck out-of-bounds from a level. The faster you get him to leave, the better as players are rated Angry Birds style in terms of how fast they get this done in the form of stars.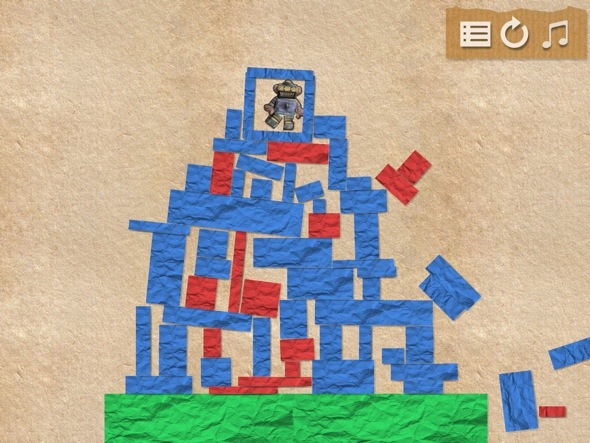 How you get Chuck to leave in this physics-based game is by manipulating his environment. Certain items in each level can be destroyed, and players choose how best they would want to manipulate pulleys, ropes, balls and even make-shift catapults to chuck poor Chuck out. I must say the gameplay model in Chuck the Bot is refreshing as most games would focus of destroying stuff while trying to keep everything IN.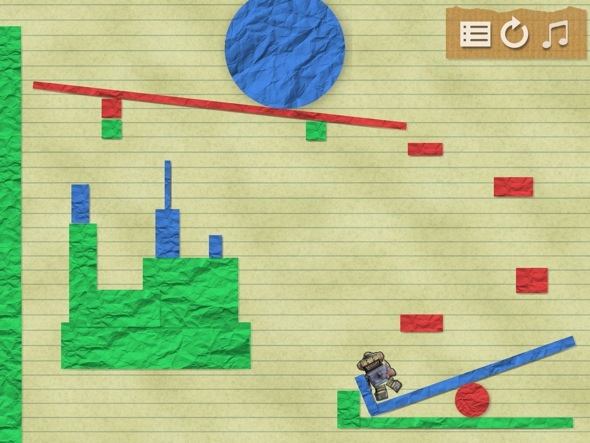 Aside from the awesome gameplay, I really love the art direction in this game, objects are rendered as crumpled colour paper and Chuck himself, looks to be a colour-pencil creation. Chuck the Bot has some extras under it sleeve, with the addition of an Level Creator/Editor and an Online Level Viewer for plenty of user-generated content.
This increases the amount of re-playability that the game already offers from the 60 levels that it already has. One thing to note, the game is available for free on the iTunes App Store with 15 levels available, the rest of the game is unlocked with a 99 cents in-app purchase.That's actually a pretty smart business model from GearSprout, having people to check out the game first before deciding to unlock more levels and the Online Level Viewer for a very small sum.
If you have not checked out Chuck the Bot yet, you really should as we at Nineoverten.com rate the game highly at a 4.5 out of 5. Check it out over here: https://itunes.apple.com/us/app/chuck-the-bot/id602192130?mt=8
Powered by

Sidelines
Previous Post DuckTales Remastered Announced and Arriving in Summer 2013
Next Post Crushin' Robots – NYC (iOS) Game Review