Group Buying Site Sells NES Rip Off Complete With Pirated Games Cartridge
I thought I unsubscribed my email address from a mailing list from a particular group-buying site but at this moment, I'm glad I'm still receiving e-mails from them, just for this particular LOL moment. Hulala.com.my's feature item for today is a "Nintendo Game Console System" which comes loaded with a "89-in-1 game cartridge", all for a really "low" price of RM 84 (about 28 dollars).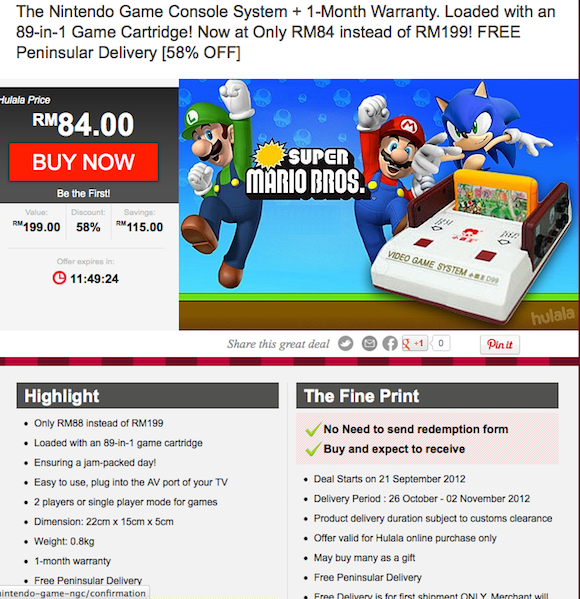 Typical of the language found in other group buying sites, the product description promises a jam-packed day and the device comes with one month warranty. I wonder whether whoever that approved this to be sold on the group buying site realised that this is a counterfeit product, and that the games are pirated. Got to admire what the designer did though, taking off the word "New" from the Super Mario Bros title, and throwing in Sonic the Hedgehog for good measure.
Here's the page if you are interested 🙂 https://www.hulala.com.my/deal/nintendo-game-ngc
Powered by

Sidelines
Previous Post A Space Shooter Blitz Blasts onto iOS, Android and Facebook For Free!
Next Post Apple's New iOS 6 Maps App Is A Work In Progress, Presenting the Maps + Google Places Hybrid