Get Your Hands Chopped Off In Millionaire Show (iPhone) Game Review
"I wanna be a millionaire, so freaking bad.." Remember that Bruno Mars song? It was a pretty cheeky pop ditty which no doubt served as inspiration for quite a number of people. D&D Dream's latest iOS game, Millionaire Show for iPhone tries to give you the answer to "How badly do you want to be a (virtual) millionaire?".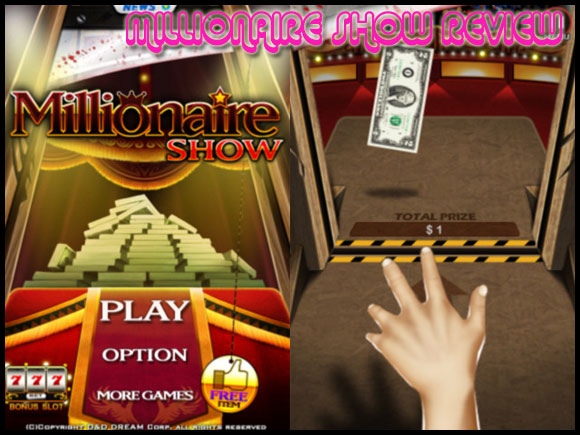 The game's premise places players in a virtual reality show; there's a guillotine going at seemingly random chop-chop-chop pattern, and all you need to do is to guide your virtual hand to grab the cash dangling at the opposite site. The amount of money offered goes up if you perform well. If you get your hand chopped off, you'll need to use the other hand, until both hands are cut off. LOL. It makes for pretty gory good fun and you'll need to have great reflexes in order to play the game.
The money offered from the start is very little but grows to be a huge amount as you progress. There are certain items available that allow you so skip the lower level offerings and start where the big bucks are. These items are finite in quantity and can be replenished via IAPs (naturally). The seemingly random pattern in which the guillotine seems to chop can actually be discerned if you are patient enough…all this becoming a (virtual) millionaire stuff requires quite a bit of concentration.
The game comes with Game Center leaderboards, so you can check out the gory progress of other would be virtual millionaires from around the world.
Speaking about gore, you've got to admire what the developers what the developers did when it comes to chopped off limbs. The amputated part is actually censored and your virtual appendage would be spouting out green blood! It didn't do them any good though as the game still comes with a 17 and above rating. Nine Over Ten on the other hand, rates Millionaire Show for iPhone at a 4 out of 5. It's definitely worth checking out.
The game is available for 99 cents on the iTunes App Store, so head over here: https://itunes.apple.com/us/app/millionaire-show/id511851594?mt=8. A review code was provided to Nineoverten.com for the purpose of this review.
Powered by

Sidelines
Previous Post ACW and UNHCR Brings Eye Opening Experience In New Game My Life as a Refugee (iOS/Android)
Next Post Crytek's Fibble (iOS) Gets Major Update and Price Cut to $0.99