Reckless Racing HD (iPad) Game Review
I've not checked out an EA-published iOS for a long time, but recently I had the opportunity to check out Reckless Racing HD on the iPad. I don't remember downloading the game though, it must have been during one of those free promos or 99-cent sales period that EA is fond of doing.
The game is a real hoot to play, the 3D graphics and the drifting mechanics work really well in this top-down racer. Players choose between a beginner friendly mode or an advanced mode, that makes handling even more interesting. My only concern is that the game's AI doesn't really pose a challenge. The rubber-band AI, which is a common staple in EA's racers (just look at the Need for Speed series) is noticeably missing.
The courses in the game however provide enough challenge even when the AI fails to live up to the lofty standards shown in the graphics and gameplay. Players race and drift their way through highly detailed courses featuring beautiful environments, effects and even "God-rays". The developer didn't spare any graphical bells and whistles from this game.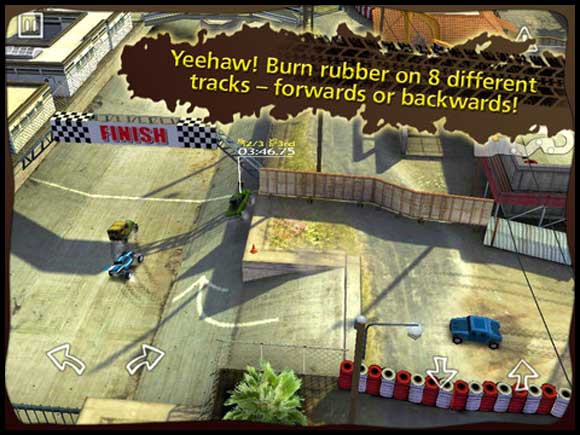 Nine Over Ten 9/10 rates Reckless Racing HD at a 4.5 out of 5. HIGHLY RECOMMENDED. On a side note, I hope the developer puts in place Game Center instead of their own online leaderboards, it's a pain to sign up for an alternate service. The game is available at a price of USD 4.99 on the iTunes App Store: https://itunes.apple.com/us/app/reckless-racing-hd/id386237505?mt=8
Powered by

Sidelines
Previous Post Lamborghini Aventador LP 700-4 Gets Featured in Sports Car Challenge (iOS)
Next Post Indie Game Developer Interview: Ondrej Sedlacek (Froggies)