Flip the Bird (iPhone) Game Review
Appsomniacs' iOS game Flip the Bird would turn some heads based on the title alone, but not to worry, there's nothing vulgar about the game, except the fact that you are launching a cannibalistic bird from a catapult (as punishment for eating up his siblings), and hoping to get him to fly as far as possible.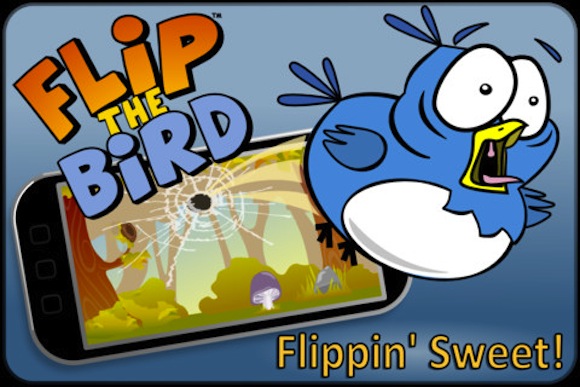 You'll need to launch the bird at the precise moment in order to have a full bar of energy. Energy is expanded everytime you tap on the screen to cause the bird to bounce. You can save energy by bouncing the bird off other birds and mushrooms. Other animals such as the fox, tortoise and raven act as bonuses by bringing the bird a certain distance.
Obstacles such as bees and rocks will further diminish the bird's energy and it would be a matter of time before he bursts and it's game over. The game is pretty damn fun and with Game Center and Open Feint, you'll be curious on an international level on how well you are faring against the competition.
Nine Over Ten 9/10 rates Flip the Bird at a 4.5 out of 5 for being a fun and addictive experience. The game is available on the iTunes App Store for just 99 cents. Check it out over here: https://itunes.apple.com/us/app/flip-the-bird/id452552250?mt=8
A review code was provided to Nine Over Ten 9/10 for the purpose of this review.
Powered by

Sidelines
Previous Post SHADOWGUN Update Supports New iPad Resolution, 4X MSAA
Next Post MARVEL VS. CAPCOM 2 Released for iPhone & iPod touch