Monster Stack 2 (iPhone) Game Review
Monster Stack 2 for the iPhone reminds me of another game that I reviewed last year. The gameplay is similar where you stack blocks of different sizes and shapes and pray that the resulting structures do not topple over. In both games the blocks themselves have their own faces but do you know what makes the difference when it comes to Monster Stack 2? The graphics are definitely more polished.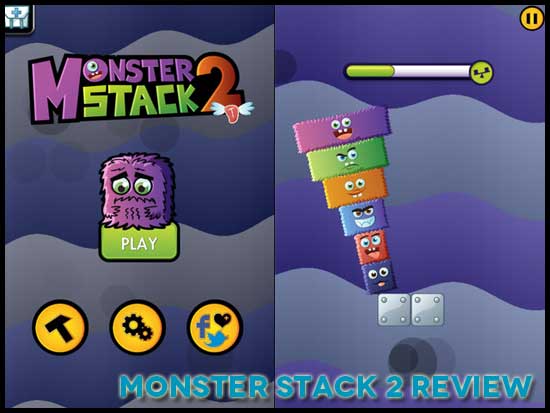 I like these kind of stacking games, it's like playing Jenga in reverse. The objective is to stack all the blocks so these hungry monsters can reach a piece of meat at the top of each level. Often the base where you start stacking is pretty spartan, and you'll need to be economical AND smart when it comes to deploying your blocks.
My only gripe about Monster Stack 2 would be the soundtrack, Canadian developers Health Pack Games (those folks must have played too many FPS games to name their company as such…fancy picking up a health pack in DOOM?) could have gone with something more chirpy rather than the dour tracks they chose.
Anyways, Monster Stack 2 is bound to bring in a whole lot of gameplay with its numerous levels and the game serves up some mind-boggling stacking challenges early on. Kids and adults alike would find the game rather appealing. Nine Over Ten 9/10 rates Monster Stack 2 at a 4 out of 5, check out the game over here: https://itunes.apple.com/app/monster-stack-2/id504898184
A promo code was provided to Nine Over Ten 9/10 for the purpose of this review.
Powered by

Sidelines
Previous Post Hit iOS Tower Defense Game Tesla Wars Now Available for Free!