Retro Racing (iOS) Game Review: 2D Racing Doesn't Get Any Better Than This
There's something about Retro Racing for the iPhone that makes me feel that I'm channeling the likes of Senna, Raikkonen or even Hamilton. Nevermind the top down 2D graphics, this game is straight-on one of the best arcade-stye racing I've ever had the privilege of playing.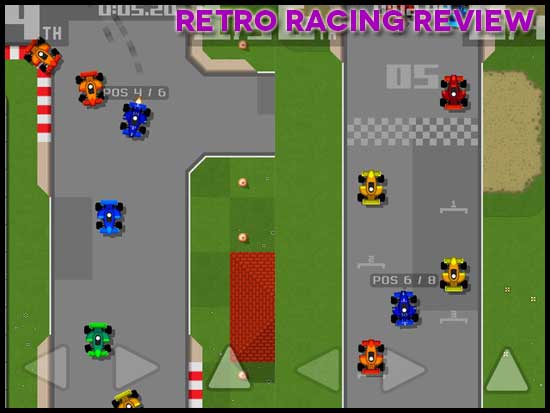 The controls for the game are really simple, there's one button to accelerate, while another two buttons taking care of turning left and right. Each of the levels is a race track and how you go about unlocking new levels would be to finish in 3rd place or better. There are several types of Formula-type cars to choose from, and they differ in terms of speed, acceleration and tyre grip.
I've been having a blast racing in this game and although it looks simple, playing it will reveal the amount of effort that went into the game. The game runs fast without any lag. The opponent AI doesn't really feature a rubberband-like aspect but it's more human-like in nature…these 2D race cars actually make mistakes!
The challenge is often in the course itself, and while there are power-ups to obtain, you'll need to avoid obstacles like oil-slicks and what looks to be traffic cones (hard to tell, since it's top-down after all, but at least the cars and everything else are clearly discernible), as well as pay attention as in when to slow down into turns.
Nine Over Ten 9/10 rates Retro Racing at a 5 out of 5, this racing game is simply awesome. The game is available on the iTunes App Store for just 99 cents. Check it out over here: https://itunes.apple.com/us/app/retro-racing/id436151675?mt=8
A review code was provided to Nine Over Ten 9/10 for the purpose of this review.
Powered by

Sidelines
Previous Post Crytek Releases Fibble Free (iOS) Just In Time For Easter
Next Post Diablo III Beta (Mac) Final Impressions