Car Club: Tuning Storm (iOS) Game Review: One Trick Pretty Pony?
Tapsoul's latest iOS game, Car Club: Tuning Storm is a bit of a head scratcher to review. The game is one where players customise cars and race them against random AI opponents in what looks to be the equivalent to Need for Speed's drag race event (you've got control on the gear shifting and nitrous).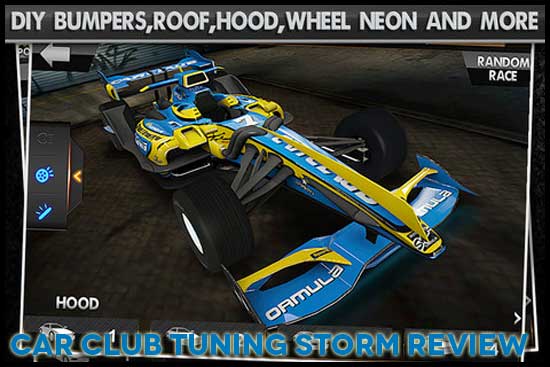 The customisation options are a strange mix. The focus is on the exterior of the car whereas the insides such as the engine and transmission are off limits. Even so changes to the exterior parts can lead to lower weight, more horsepower (go figure) and higher speeds and you'll need to do these changes in order to get a lead up on the AI-opponents…but if you are doing this for the slowest car in your garage…don't bother…it's not going to win any race despite your best intentions.
Another strange thing about the game is that while it costs USD 2.99 to purchase, you'll still need to do in-app purchases to unlock parts that will propel your vehicle to greater heights (well, speeds) and to unlock other cars as well. And this can be really expensive as the game offers up the entire shebang of upgrades and cars for a whooping USD 8.99. All for what? The privilege to race in drag races that run in straight line (taking this off a commenter on the iTunes App Store).
Perhaps the price tag was due to the need to pay for that (admittedly) cool looking intro video..
Car Club: Tuning Storm would have been better off as a freemium title and despite looking gorgeous, is rather short on the gameplay department. Nine Over Ten 9/10 rates Car Club: Tuning Storm at a 3.5 out of 5. The game is available on the iTunes App Store for USD 2.99, with additional in-app purchases: https://itunes.apple.com/us/app/car-club-tuning-storm/id494481220?mt=8
A review code was provided to Nine Over Ten 9/10 for the purpose of this review.
Powered by

Sidelines
Previous Post Vortex Games Seeks Crowd Funding To Release Tribble Sports (iOS) At Comic Con
Next Post Out Zone Reloaded – Retro Run and Gun Shooter Released For iOS