The Binding of Isaac – The Unholy Retail Edition Announced
Indie darling and perennial favourite on Steam, The Binding Of Isaac is about to get its retail debut, and it promises to be a doozy. Ever wondered what it's like to be hunted through basements, caves and dungeons, whilst being hounded by mutants, searching for holy relics and cutting deals with the devil on a mission to escape your mother, who just happens to be hell bent on sacrificing you with a large shank to the big man upstairs in order prove her faith..?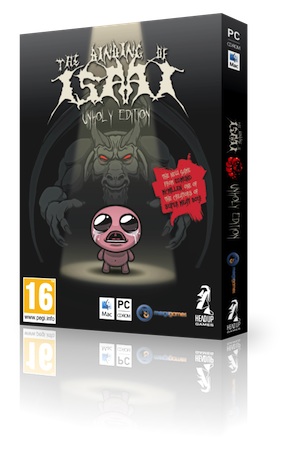 No, neither have we… But this March 16th, Merge Games will make this your reality, with a special edition retail release of The Binding of Isaac. "The Unholy Edition" includes a DRM free Version, free Steam gifting key, the award winning soundtrack, spectacularly weird poster and 40 page "Devzine".
Dieter Schoeller, MD of Headup Games, states: "Through our partnership with Merge Games to cover many more territories we are making at least sure that we are not the only ones going to hell for publishing the meanest, darkest and most unholy edition of The Binding of Isaac.".
"We are delighted to be working with Headup Games to bring The Binding of Isaac to retail are the thrilled to be adding this Indie hit to our portfolio. We think you will be blown away by the "Unholy Edition's extra goodies." – Luke Keighran MD Merge Games Ltd
Powered by

Sidelines
Previous Post Spacetime Sires Vampire MMO: Dark Legends, Coming Soon in 2012
Next Post Telltale Launches 'Sam & Max: Beyond Time and Space' for iOS