Nike We Run KL 10K 2011 Race Report
Phew, I ended my 2011 running season with a bang at Nike We Run KL 10K 2011. This year's event took place at Padang Merbok and attracted 10,000 runners and it made for a really crowded race. The good thing about We Run KL 2011 was that the entry fee was significantly cheaper than most runs (thanks to the Buddy thing they had), and I can see a lot of newbies joining the race.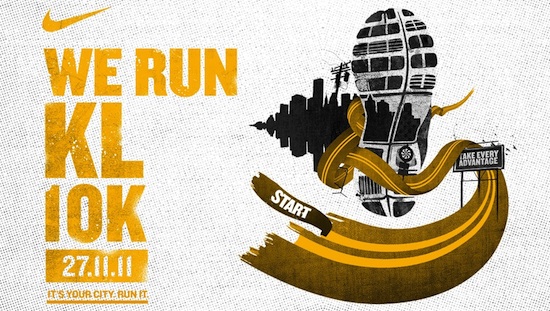 On the downside, the race was like any high profile 10K event, it was crowded with very poor observation of race etiquette and the narrow course was filled with people who don't really intend to run. I guess that RM 25 entry fee is hardly any motivation these days to push one's self to run, but I did see a number of newbies pushing themselves especially towards the finish.
I finished at around the 1 hour 5 minutes mark (gun time) while my watch recorded a time of an hour 1 minute, not bad considering I had to do a lot to get out of the "woods". It was only after the 7 kilometer mark that the crowd thinned out a little, most likely due to the rise in elevation.
The finish line was located at a downhill portion of the course and it was really cool and fun watching runners zip pass each other to make up for loss time from the uphill portion. I must add that the finish area, unlike the course, was designed to cope with the high number of participants in the event, and I went through it (and collected a couple of bananas, a bottle of water, and the race souvenir thumb drive) with very little hassle.
I do however have a comment on those who "bandit" the run. That term is reserved for people who didn't pay but end up joining the race anyways. In the case of Nike We Run KL 10K 2011, these "bandits" are very easy to identify, they do not have the Nike shirts which double up as the running bibs. Quite a number of these bandits showed up in the Putrajaya Night Run finisher shirts.
You know it's fine that you want to run with the paying runners…but please leave the finish line alone, that is for paying runners only. The RELA members did a good job in stopping some of these bandits just before the finish line, but some made it through, running at top speed if I may add. Shame on you for being a bad example to people and no respect to both the organizers and those who actually paid to run in the event.
Anyways, if there's one thing I would love the organizer to change next year would be staggered starts. The race course isn't meant to handle 10,000 runners in one go and is in danger of being a walkabout in certain areas. New categories wouldn't hurt either. Adidas has the 16.8 K AND 10K in the King of the Road race, so how about a Nike half marathon in 2012?
Powered by

Sidelines
Previous Post Knock Out The Bad Guys – Manny Pacquiao: Pound for Pound (iPhone) Review
Next Post Fruit Ninja: Puss in Boots Debuts on Android Devices