RTS Like No Other – Anthill: Tactical Trail Defense (iPhone) Review
Given the scope of Anthill: Tactical Trail Defense, I would say that it's best played on an iPad. But having said that, the iPhone version of the game is actually an amazing real-time strategy game, one that takes the concept of tower defense up several levels in having ants to patrol and defend an anthill.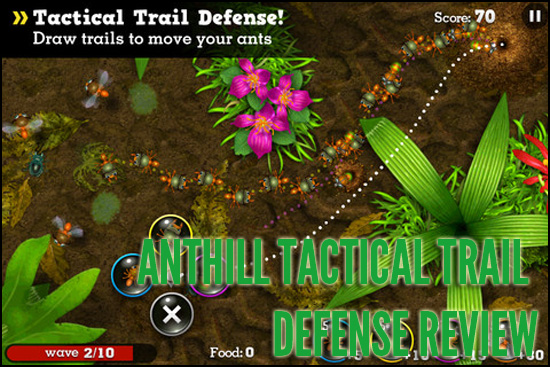 How this is done is pure genius; players draw pheromone trails to direct their 6-legged troops. The ants themselves are divided into different types. There are the worker ants which are tasked to gather food and the bodies of fallen enemy insects, and with the food supply, players can create soldier ants, spitting ants and even flying ants that take up the role of long-range bombers.
With these ant types at their disposal, players will take on a variety of enemies and I must say, the enemy AI is a nasty little bugger. I myself had been routed several times and what Anthill has successfully proven is that the game is no pushover. Having your worker ant annihilated with no food left is one way the AI punishes players.
The game rates players based on the number of points earned at the end of each level, and players get a number of stars as the reward. These stars are used to obtain permanent upgrades to your troops, and here's the slightly disconcerting part of the game. You can actually do an in-app purchase for additional stars in order to get a leg up in the game. It's almost like paying to unlock the tech tree in let's say….StarCraft II…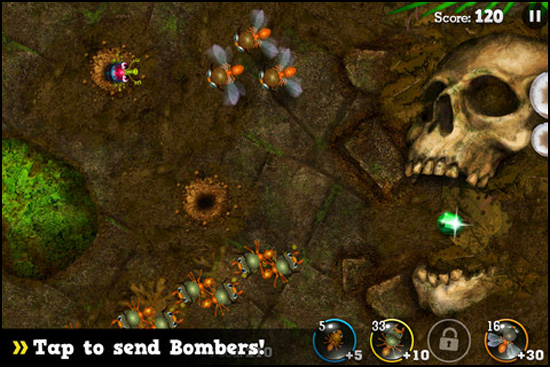 Anyways, on it's own, the game is a well-crafted, beautiful-looking RTS for the iPhone and the iPad, and I highly recommend the game. The latest update brings about an infinity mode on top of the over 20 levels that the game offers. Nine Over Ten 9/10 rates Anthill: Tactical Trail Defense at a 4.5 out of 5.
Check out the game over at the iTunes App Store where it's selling for just USD 0.99: https://itunes.apple.com/us/app/anthill-tactical-trail-defense/id414658364?mt=8. A review code was provided to Nine Over Ten 9/10 for the purpose of this review.
Powered by

Sidelines
Previous Post Konami Drops Price on Gesundheit! for iOS