Warning, Addictive – Monster Warrior (iPhone) Game Review
It's been nearly two weeks since Halloween, but there's no reason you should skip having a look at Sparkin' Apps' Halloween-themed, Fruit Ninja-inspired game, Monster Warrior. The game retains the slicing/cutting elements that made Fruit Ninja great, but adds on several more innovations along with a whole bunch of game modes in an attempt to differentiate itself from the competition.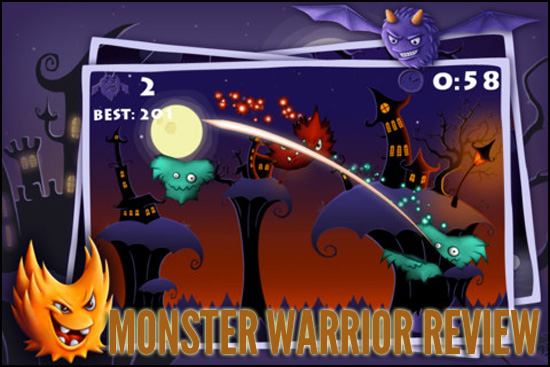 So, instead of slashing fruits and avoiding bombs, players slash monsters and avoid harming the cute little rabbits that pop-up occasionally. Now, some people might think that perfect combo slashing of monsters is key in this game, it turned out to be not so. I found out that in order to be successful in the arcade mode you'll need to be able to combo POWER-UPS.
These power-ups include the ability to slow down monster movement, double points or even cause a monster frenzy. Constantly chaining these power-ups will allow players to rake up the points and minimize the instances of rabbit showing up. Other game modes like Survival allow the player to slow down and serve to highlight the really cool looking cell-shaded graphics employed by the game.
I found it hard to review the game, not because it was bad (on the contrary, the game's excellent!), but because I was obsessed with trying to top the leaderboards for the various game modes available in Monster Warrior, no thanks to Game Center :). Nine Over Ten 9/10 rates Monster Warrior at a 4.5 out of 5, for being as addictive as a bowl of Hershey Kisses.
Monster Warrior is available on the iTunes App Store for just USD 0.99, check it out over here: https://itunes.apple.com/us/app/monster-warrior/id452001631?mt=8. A review code was provided to Nine Over Ten 9/10 for the purpose of this review.
Powered by

Sidelines
Previous Post Battleship Mayhem – Battle Group (iPhone) Game Review
Next Post Zen Stones HD Goes Free For Mac, USD 0.99 For iPad