Fling a Thing (iPhone) Review: Definitely A Thing of Substance
I've got a whole bunch of games from Big Blue Bubble (BBB) to review, and you've probably seen the first game featured yesterday (Burn The Rope: WORLDS, click here to read all about it). The game that I'm writing about today is one that is totally different gameplay-wise, but occupies the same casual space which has been the in-thing for quite some time now.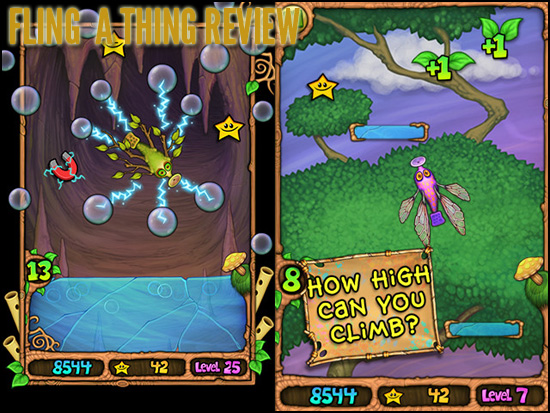 If there's one thing to commend about BBB's Fling a Thing is that not everyday you get to see a player controlled character in which the design seems to be inspired by Siamese Fighting Fish. But then again, Fling A Thing has more going for it then just inspired character design. Players use the fish-inspired "Thing" in gameplay that seems to channel both Arkanoid and Mega Jump.
Players kick off a level by launching the "Thing" from the bottom of the screen to collect bubbles that can be found floating around in each level. They get to proceed to the next level by collecting ALL the bubbles in the current level. If you think this sounds easy,  then you've got it wrong. Players are limited in terms of number of shots from which they can launch the Thing in each level; fortunately there are bonus shots as well as other power-ups floating around waiting to be collected along with the bubbles.
Partially because of this, the gameplay in Fling a Thing makes it a little less frantic than the more run-of-the-mill jumping games. But like those games, Fling a Thing makes it a challenge to see how high players can go up to as this is how  level progression is built into the game. Basically you've to climb your way up to the next level.
One thing to note is that if you see a star floating around, do be sure to collect it as it's the in-game currency. Stars are used to unlock levels and other "Things", and at this time of writing, these are rather expensive in "Fling a Thing", so be sure to get all of them stars at every opportunity. The game has a Tamagotchi mini game tacked on to it, whereby you get to feed juvenile Things which will go about collecting stars.
I stand impressed with Fling a Thing and while comparisons with its other BBB stablemate are sure to come by, I'm sure this game will hold an audience of its own. BBB has done well to come up with pretty cool games so far and Fling a Thing is no different. Nine Over Ten 9/10 rates Fling a Thing at a 4 out of 5. Check it out over here: https://itunes.apple.com/us/app/fling-a-thing/id453089936?mt=8.
A review code was provided to Nine Over Ten 9/10 for the purpose of this review.
Powered by

Sidelines
Previous Post Burn The Rope: WORLDS (iPhone) Review: Keep On Burning!
Next Post Rurouni Kenshin (Samurai X) Gets The Revoltech Treatment, Two Action Figures Now Available!