Croma (iOS) Review: Plenty of Potential, But Needs Fixing
Got the chance to check out Mindfruit Interactive's latest game earlier today, it's an iOS shmup called Croma. The abstract style kinda reminded me of the minimalist retro look heavily adopted by the early 2000 bitGenerations series on the GameBoy Advance. The gameplay itself, is more of a modern day reiteration of missile command.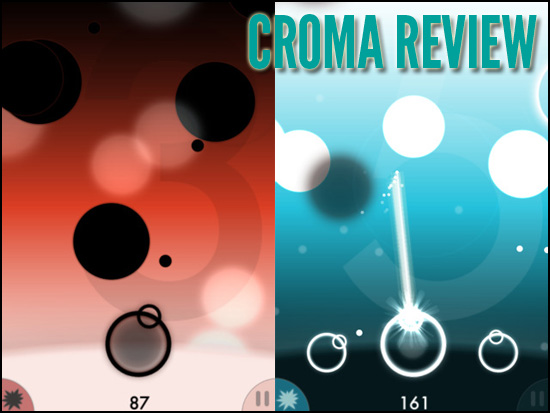 Players are tasked with shooting down white and black globes, and to do so, must switch between light and dark modes, as only in light mode can players shoot down incoming white globes, and dark mode similarly deals with black globes. For a concept that is so simple (and your shooter doesn't really move, you just direct the shots), it's surprising that I've to struggle with the controls.
The transition between light and dark is done by tapping the shooter on screen, but there's a delay in when it starts firing. Tapping it again will just cause it to change modes and you'll need to keep your finger on it in order to shoot and even then it doesn't fire, until after several attempts. This is quite frustrating as it leads to premature Game Over screens, attributed to no fault of the player.
And then there's the problem about the game crashing at times…
There's a lot of potential in this game, where even the developers claim to have frenetic highs and meditative lows in the gameplay experience…but these problems will need to be looked into first before anyone can start experiencing that.
Nine Over Ten 9/10 rates Croma at a noteworthy 3.5 out of 5. Check it out over at the iTunes App Store (USD 0.99): https://itunes.apple.com/us/app/croma/id449934522?mt=8. A review code was provided to Nine Over Ten 9/10 for the purpose of this review.
Powered by

Sidelines
Previous Post Machine Gun Jetpack (iOS) is Now Jetpack Joyride, Arrives September 1st!
Next Post Has Nintendo Lost The Plot?