Word Ball (iOS) Review: Not Like Any Other Word Game
I've been playing quite a number of word games lately, including Words with Friends on Facebook, no thanks to the juggernaut known as Zynga. I rarely play Facebook games, but I made an exception for WwF. As such, word games are kinda like the flavour of the month for me. So today, I'm reviewing another word game, Continous Integration's Word Ball for the iPhone.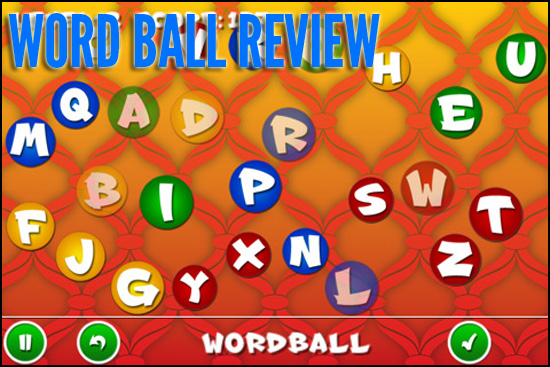 Like most word games, players form words and score points, but Word Ball aims to add one thing into the mix, panic. Most games allow you to take your own sweet time to form words (think Scrabble or Words with Friends), but in Word Ball the longer you don't use a letter, it will eventually disappear, making it difficult to form words as the level progresses. The letters are presented as balls on screen and selecting them becomes a task of hunting them down first because the balls constantly move around.
In this environment of adversity, panic is fostered and some really frantic gameplay emerges as players rush to keep letters alive, and at the same time thinking of what words to form. I managed to last all the way to level 11 before noticing that you can select the same ball (use the same letter) several times when forming a word. LOL.
The game has detailed stats on the the words played as well as it keeps track of the scores as well. I've got no complaints with the internal dictionary so far, according to the developers it has over 175,000 words. Achievements and online leaderboards are provided for using Game Center and the achievements themselves are not that hard to obtain…this bit is for achievement hounds out there :).
Word Ball is both a fun, frantic and addictive experience, something different for all you wordsmiths out there . Nine Over Ten 9/10 rates Word Ball at a 4.5 out of 5. Check it out over at the App Store (USD 1.99): https://itunes.apple.com/us/app/word-ball/id436239309?mt=8&ign-mpt=uo%3D4.
A review code was provided to Nine Over Ten 9/10 for the purpose of this review.
Powered by

Sidelines
Previous Post Indie Game Developer Interview: Zen Wars Developer Patrick Wolowicz of subzero.eu
Next Post Machine Gun Jetpack (iOS) is Now Jetpack Joyride, Arrives September 1st!