The London Riots
The London Riots of 2011 was an interesting event to follow even in a year in which we have seen the Arab Spring. This was simply because the scale and the looting that followed was unprecedented in what we acknowledge as a developed nation.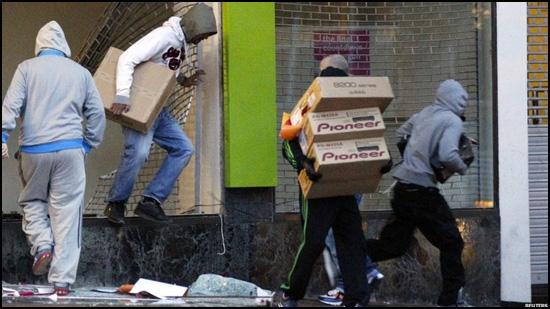 While I think the general cause of the riot and looting were due to individuals hijacking what was initially a show of displeasure against the police shooting of a black guy (which itself is a rare thing in the UK, unlike the police force of a certain former colony which happens to be my home country), I'm surprise at the levels of participation and thuggery.
It seems like greed and consumerism are the main drivers behind the looting, it's just scary looking at these yobs making off with flat panel TVs, sport shoes, cell phones, all those things that are desirable in live but perhaps this class of people are too impoverished to have them all. And with that greed came madness, as if it's not enough to strip a store dry, they would raze it to the ground!
I found it even more interesting to see initially how the authorities were trying to explain the cause for these riots. Both popular culture and social media were place in the forefront, cast as the cause and instigator to the riots. Gangster movies (this is a new one) and video games (well, ok, this is an old one) were blamed for the thuggish behaviour displayed by these offenders. Messaging services such as BBM were fingered as the method used for coordinating the mobs.
Perhaps what we are witnessing is the breakdown of the British family unit due to social/economical/political factors, considering the majority of these looters are teenagers (a.k.a. yobs a.k.a teenage/young hooligans)? One guy even mentioned that this is a rise of a "more menacing underclass", basically "a new generation of disturbed and aggressive young people due to repeat and amplify the social breakdown disfiguring their lives and others around them".
Scary isn't it?
Powered by

Sidelines
Previous Post Check Out These Cool Video Game Intro Remakes By Rickonami
Next Post Word Triangle (iPhone) Game Review: Are You Up For A Challenge?