Dino Catch (iPhone) Review: Game Theory Brought To Life In This Awesome Puzzle Game
I needed to get rid of the bad taste in my mouth (as a result of trying to review Star Reversi), and not only did I manage to do that, I also found a gem of a puzzle game in the form of Geowok's latest game for the iPhone, Dino Catch. The game's basis is actually a mathematical problem known as the "Angel problem" and the developers manage to translate this into a compelling little puzzle game.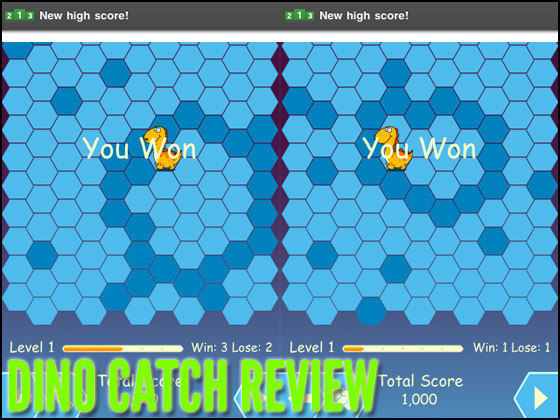 The game takes place on a hexagon-tiled board, and players take the role of the Catcher and are tasked with boxing in Dino the Dinosaur (I'm guessing that while the developers are pretty darn good at math, they aren't so great with names). They do this by tapping on the hexagon tiles, turning them a darker shade of blue and thus becoming blocker tiles, which prevent Dino from moving over them.
The Catcher and Dino will each take turns to move and while there are already a number of randomly placed Blocker tiles at the start of each level, subsequent levels will see lesser and lesser blocker tiles from the onset. The Catcher wins once Dino is surrounded by blocker tiles with no way to move beyond them….this is actually easier said than done.
Dino Catch has 12 levels to its name, but the game gets really tough at subsequent levels. Honestly, I'm blown away by this game and Nine Over Ten 9/10 is proud to give it a 4.5 out of 5 rating. Check it out NOW!
The game is available for free on the iTunes App Store, with a 2 player mode being a separate in-app purchase for USD 0.99. You can download it over here: https://itunes.apple.com/us/app/dino-catch/id442121591?mt=8
Powered by

Sidelines
Previous Post Star Reversi (iPhone) Fails To Connect, Forget About The Review
Next Post Monster Trouble HD 1.03 Released For iOS – New Update Goes Universal!