The Incredible Machine (iPhone) Game Review: Simply Awesome Game For The Family
If there's an award for "Most Fun Game for the Entire Family", Disney Mobile's The Incredible Machine takes the cake. The game's premise is simple, players solve puzzles in the form of completing contraptions in order to fulfill objectives in the levels. Players get to use parts such as pipes, bridges, and all kinds of other stuff and arrange them to complete what usually looks like a crazy science project in each of the 60 levels.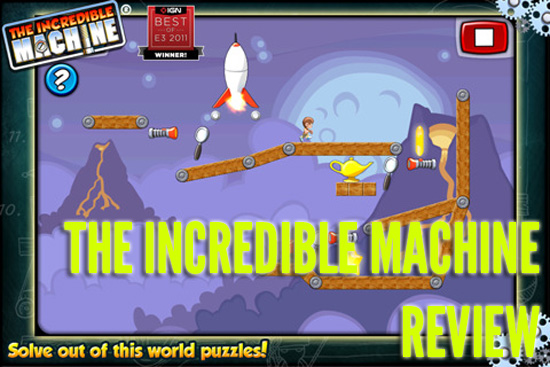 This is not bad for a game that was first introduced back in 1993 for the PC where it was named one of the Top 150 games by Computer Gaming World magazine. The series has come a long way and it's not surprising to see that Disney tapped the original developers to come up with the iPhone version of the game and bringing the game up to date with touch controls and Retina Display graphics.
I'm really having fun playing the game (I still am!) and while I admit that some of these puzzles can be tough nuts to crack, it's quite fun to go all "trial and error". But I must say, a hint system would be most welcome. Hehe. Online Leaderboards are provided via Apple's Game Center and it's based on the total number of stars you've received completing the levels (which is pretty novel).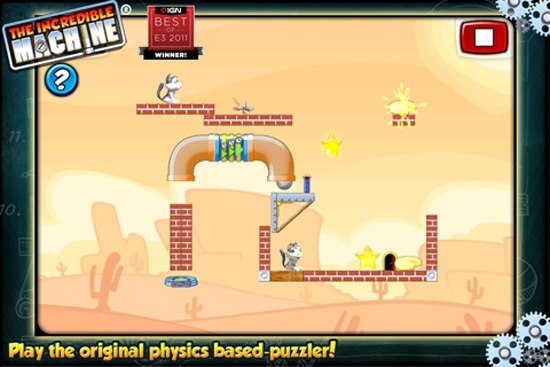 Nine Over Ten awards The Incredible Machine with a 4.5 out of 5! AWESOME STUFF. The game is available on the iTunes App Store for USD 2.99, with additional game packs in-app purchases to increase the number of levels in the game. Check it out over here: https://itunes.apple.com/us/app/the-incredible-machine/id440297659?mt=8
A review code was provided to Nine Over Ten 9/10 for the purpose of this review.
Powered by

Sidelines
Previous Post Winning, Cheating, Losing, and Hauntings in Tiny Tower
Next Post Nyan Cat Makes iOS Game Debut in Techno Kitten Adventure 1.2