Meganoid (iPhone) Game Review: Speed Runs Galore
Speed Runs. This kind of gameplay is usually reserved for players who want nothing more than to shave off a few seconds on completing level 1-1 in Super Mario Bros 3. You can find players obsessed with this style of gameplay in almost every genre but the most common one would be 2D platformers as they are very straightforward.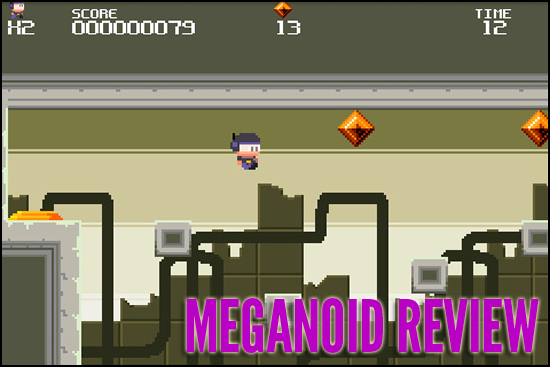 I've got the pleasure of trying out an iPhone 2D platformer purpose-built for speed runs in the form of  Orange Pixel's Meganoid, and true to the developer's word, he wasn't kidding when he mentioned that the game was HARD. The game has a lot in common with games of yore (you just need to open up a copy of Retro Gamer to find something similar), and is part of the retro-inspired movement that we see on the iTunes App Store.
This means 2D pixelated graphics ala Megaman all-the-way accompanied by some rocking MIDI tunes. Having gotten the look and sound right, what about the gameplay? Like most speed runs, you're racing against the clock and there are a myriad of obstacles along the way. The controls are pretty simple in a sense that there are only three buttons, and if you have played Mario sans using his flower power, this should be the same.
I wouldn't say that Meganoid is the best there is out there for Speed Runs, but it's nearly there. A couple of issues, namely stability (the game crashes sometimes) and the lack of Game Center still need to be addressed but the game is more than capable of throwing a challenge at players.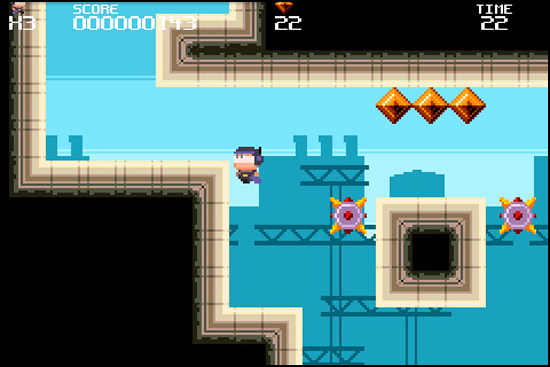 Nine Over Ten 9/10 rates Meganoid at a cool 4 out of 5. Do check it out. The game is available on the iTunes App Store for just USD 0.99, and you can download it over here: https://itunes.apple.com/us/app/meganoid/id440967670?mt=8. A review code was provided by Orange Pixel to Nine Over Ten 9/10 for the purpose of this review.
Powered by

Sidelines
Previous Post Berzerk Ball (iPhone) Goes Free to Celebrate Pre-Release of Berzerk Ball HD
Next Post Retro Shmup P-47 The Phantom Fighter Set To Debut On iPhone