Standard Chartered KL Marathon (SCKLM) 2011: Full Marathon Race Report
You know about those bucket list things? Well, one of the items in mine would be to run a full marathon (42.195 kilometers or 26 miles) and I crossed off that item yesterday, having completed the Standard Chartered Kuala Lumpur International Marathon 2011 (SCKLM 2011) with a sub-6 hour time; to be exact it took me 5 hours and 49 minutes.
It was a number of firsts for me yesterday, the race started off at 5 A.M in the morning, and it was the first time I took a dump in one of the portaloos provided by the race organizer before the race (LOL). I actually ran a rather fast first half of the race, which took us through Brickfields, Syed Putra and onto that highway to Cheras before getting onto Tun Razak and back to Jalan Istana.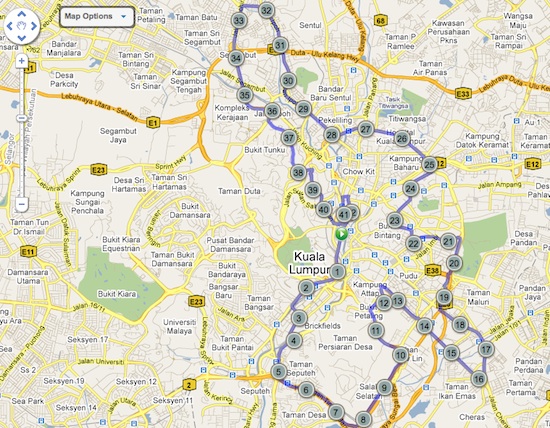 That took me an hour to do so, and I stuck with that pace until the half way point in the Bukit Bintang area (not before hitting places like Dewan Bahasa, the main traffic artery in the form of Jalan Loke Yew, Menara PGRM and Pudu. Like last year, the smell of food was in the air over at Pudu, but this time instead of Bak Kut Teh, it was wantan noodles. In the process of running this marathon, I beat my own half marathon time at the 21 KM mark, clocking 2 hours 29 minutes.
I ran for another kilometer before switching to running, and walking. The road surface was pretty bad after Jalan Yap Kwan Seng, particularly the Jalan Ipoh stretch, it's like running on gravel. Traffic was pretty heavy at the time, but thankfully the traffic police and the city council enforcers were around to keep them in check. And at this point it was clear sunny skies with nary a cloud in sight…in other words, I got a good roasting.
We ran a pretty good stretch of Jalan Ipoh right until the Kepong roundabout before turning back into the city via Jalan Kuching. Another roasting was in order as there were very little cover, there was a shower station though and that was pretty cool. An old uncle pat me on the back over at Kilometer 35 at Jalan Kuching saying in Mandarin, "Boy, you are pretty big sized to be running in a marathon, and yet you are up here running with us. GOOD JOB!"
That made my day and since I was cramping pretty bad, I took a cue from him and decided to power walk my way back as there was only 7 kilometers between me and the finish line. The last part of the race was through Bukit Tunku, and this could have been a pretty killer stretch if I were to run through it, since it was really hilly. I only walked and jogged for a bit through this area and manage to get out of the place and into Jalan Raja Laut.
At this point I wasn't sure whether I could finish before the cut-off time, as I had 45 minutes to do 2 kilometers with both thighs cramping like mad. Thankfully the auntie who was the 6-hour pacer came out of nowhere and I decided to follow her right till the end. She encouraged me to jog slowly and I made it to the finish line with 11 minutes to spare!
The race organizers did a very good job with organizing the event this year. The water stations were 2-3 KM apart, and not only was water provided, quite a number of stations had isotonic drinks and wet sponges. The route was pretty good, I got to see a lot of KL yesterday and traffic control was excellent. Now I've got both a full marathon finisher medal and a finisher t-shirt. Total number of Power Gels consumed yesterday: FOUR, thankfully with no ill effects.
Powered by

Sidelines
Previous Post Kona's Crate (iPhone) Game Review: Jet Powered Platforming Goodness
Next Post Cell Bound (iPhone) Game Review: It's Pretty Hardcore, In A Good Way