Duke Nukem Is Back, And With Him, Duke Nukem Forever Comic Book #1
Duke Nukem is back, it seems like forever (cough…pun totally intended) since we last saw the big guy. And with his return, there's a new comic book in his name, titled what else but "Duke Nukem Forever", published by IDW, written by Tom Waltz, drawn by Xermanico (I'd better start mentioning names in my comic book reviews since some people are particular about who writes/draws what books).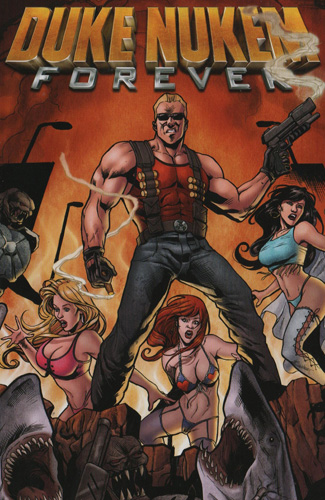 Anyways, the storyline is pretty simple, with Duke stepping into a bar, and people disbelieving that he is Duke (since he's kinda like an urban legend or vapourware by this point of time), and recounting the last time they saw him, each with their own mini-story. Well, the moral of the comic book is that "you'll always bet on Duke", since he's the upstanding go-to guy and all. LOL. It doesn't do much, but it's a fun story after all.
Powered by

Sidelines
Previous Post Indie-Games Group Offers "Summer Six-Pack" of Casual Games for a Massive 'Share' of Fun at an Amazing Price
Next Post Stinky The Cat (iPhone) Game Review