Amazon Kindle Review: The Future of Reading
Amazon's Kindle is doing for e-books what the iTunes App Store does for apps. It's like the one stop center for e-books and with Kindle e-book reader software support for Windows PCs, Macs, iOS devices it makes it easy for users to share e-books across the number of devices that they have and there's no need to actually invest in a Kindle reading device.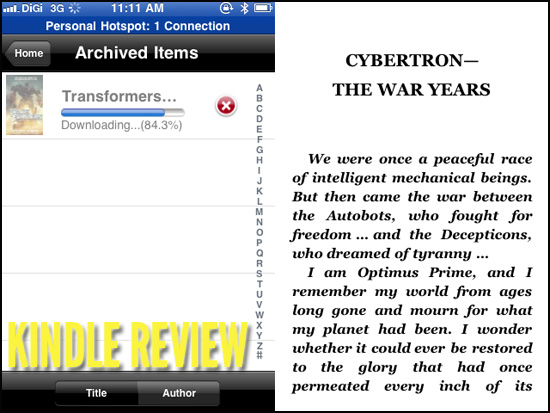 Technology such as Whispersync allows users to pick up from where they left reading regardless on which device they choose an e-book on. I could read up to a certain page on the new Transformers: Dark of the Moon on my Mac and then continue reading from that page onwards on my iPhone.
Purchasing e-books is pretty simple, just head towards the Kindle Store, it's basically a sub-site of the main Amazon.com site. The only issue I have though is being in the Asia Pacific region, Kindle titles are actually not available for me to purchase. I needed to change my region to that of North America to be able to start to purchase titles but after that it's a simple matter of entering credit card information.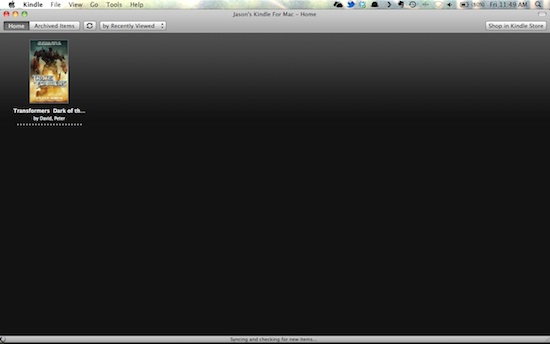 Price wise, Kindle e-books are pretty cheap. The book I bought had a price tag of USD 7.99 and it's about 3 dollars cheaper than what you normally pay for a physical book. It's also one avenue to purchase ahem, books banned by the government. I live in Malaysia and I'll be kidding myself if I were to say there's no government censorship on printed media. But with Kindle, I can now purchase that Damon Brown book that I've been looking to buy for a damn long time.
It's also no surprise Amazon announced that they are selling more e-books then printed books. How's this for a selling point: Instant Delivery!
On the downside, you obviously lose out on holding onto a physical paper/hard-back book. Some people I know prefer to have bookshelves filled with books, these double up as interior decoration as well. But vanity aside, e-books do have an added benefit of not having trees cut down for paper. This however is still a shallow "green" argument point. One must ask whether the data centres hosting all these titles are "green" ones as well. Anyways, that's an issue that should be addressed independently.
In the mean time, I'm giving Kindle two-thumbs up. It's not really a replacement for my physical books yet but hey, having one additional avenue for books is no harm at all.
Powered by

Sidelines
Previous Post GAMEVIL Brings KAMI RETRO HD to the iPad
Next Post Farkle Dice for iPhone and Android Rolls Past Half A Million Downloads