Garnet Games Releases Puzzle Moppet 3D Puzzle Game For Windows/Linux
I was pleasantly surprised to receive a PC indie game press release today, considering that I usually get tonnes of iOS related stuff, indie or otherwise. In any case, Garnet Games has released Puzzle Moppet, a 3D puzzle game for both Windows and Linux. Check out the press release below for more details: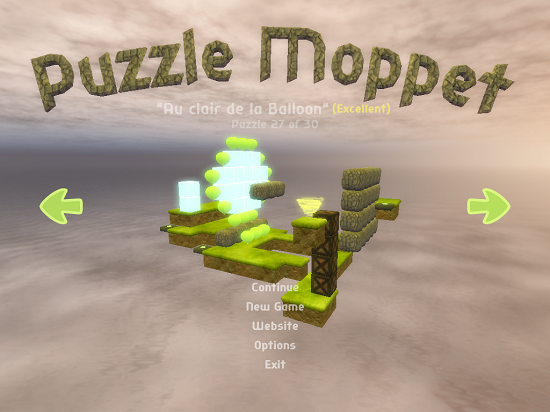 Puzzle Moppet is a serenely peaceful yet devilishly challenging 3D puzzle game.
12th May 2011 – Garnet Games, one person independent game developer, releases Puzzle Moppet, a serenely peaceful yet devilishly challenging puzzle game, featuring a diminutive and apparently mute creature who is lost in a mysterious floating landscape. Puzzle Moppet takes well known and beloved block shifting gameplay and updates it with true 3D puzzles and an assortment of new objects.
Game Features
Save the Moppet from itself – The Moppet is lost and alone in the space wilderness, feeling sad and depressed. You are its only hope. Can you help?
Brain melting puzzles – Guide the Moppet through the vast and eternal void of space, navigating ice blocks, exploding blocks, balloons, elevators and more… Test your brain with over 30 puzzles ranging from the delightfully docile to the devilishly devious.
Beautiful graphics – The sun blooms as the clouds slowly roll by, a rising sea breeze howls softly as it roams the void. Immerse yourself in the lonely tranquillity of this mysterious other world.
Risk free, DRM free – Puzzle Moppet has no DRM or registration codes, plus a 30 day no-questions-asked money back guarantee. Just download and play!
Support an independent game developer – This isn't a huge soul hungry corporation. We just want your love, and your monies.
Puzzle Moppet is available for both Windows and Linux operating systems, with a Mac version coming dependent on success of the other versions. A free demo version of Puzzle Moppet is available from the website. The full version of Puzzle Moppet costs $14.95 and can be purchased securely using credit/debit card, PayPal, or even with the new digital currency Bitcoin.
Puzzle Moppet Website: https://garnetgames.com/puzzlemoppet/
Powered by

Sidelines
Previous Post Achievement Unlocked: Air Penguin (iPhone) Gets 1 Million USD in Revenue In A MONTH
Next Post Switch Frenzy (iPhone) Game Review: Excellent Arcade Fun