UNICEF Spain Uses Momotaro eBook (iOS) to Raise Money for Japanese Children
TouchyBooks' Momotaro e-book app for iOS devices is an interesting one out of the myriad of e-book apps on the iTunes App Store. Not only does this beautiful e-book tell of the classic Japanese tale of Momotaro, the boy found floating down a river in a giant peach, each purchase of the app will result in part of the proceeds being donated to UNICEF's relief efforts in Japan (Apple takes its cut from the sale of this USD 1.99 app, and the remaining USD 1.21 goes straight to UNICEF).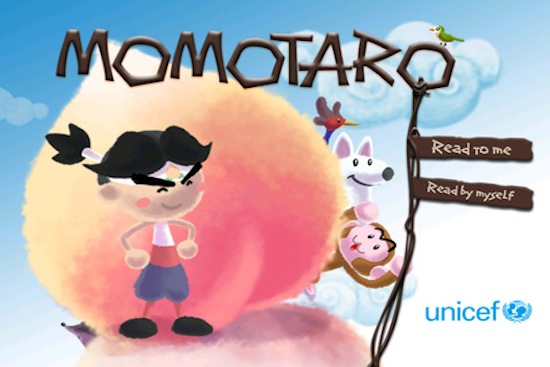 Kid's App Bookstore TouchyBooks Releases First UNICEF eBook for Japan Relief
Popular kids' bookstore app TouchyBooks has combined its efforts with the UNICEF office in Spain to create "Momotaro," the first UNICEF interactive children's book app for the iPhone and iPad in order to teach kids about the importance of helping those in need and of being resolute in the face of challenges – all while raising money and awareness for UNICEF's work in Japan. All of TouchyBook's profits from the sale of the eBook will be donated to fund UNICEF's disaster relief efforts for children in Japan.
As a child-focused book publisher, when the devastating earthquake and tsunami hit Japan on March 11, the TouchyBooks team knew that younger children often feel helpless and cannot understand the situation as it evolves around them. "Stories have been used since the beginning of time to help children understand the world around them.'Momotaro' is a great story for parents whose child has seen or heard information about the tragedy in Japan, but might be too small to comprehend the enormity of disasters or their role," said Raul Soriano, author of Momotaro.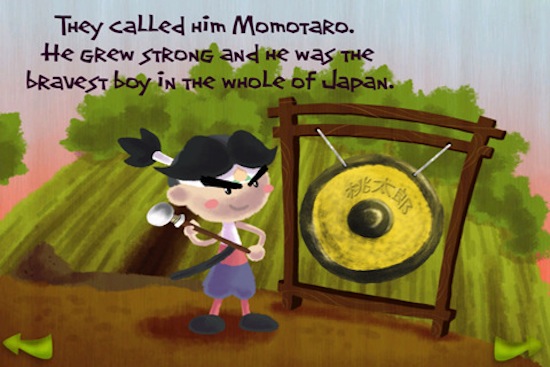 Momotaro tells the story of the title character, a young Japanese boy who is found floating down a large river, sleeping inside a giant peach. Momotaro grows up to become the strongest and bravest boy in Japan, and when an evil demon comes to his village and steals all the food and belongings of the townspeople, it is up to Momotaro to find the monster and reclaim their possessions.
"We are incredibly happy to be able to present with UNICEF such a historic and beautifully designed story for the Japan relief. This project has been lots of fun and having the opportunity to help the children of Japan means a lot to us," says Jose Miguel Lopez Catalan, CEO of TouchyBooks.
This colorful and interactive story teaches children ages 3 and up the importance of friendship and courage when times get tough. It's engaging and interactive, giving young readers the opportunity to participate in the story, all while teaching a valuable lesson about helping those in need.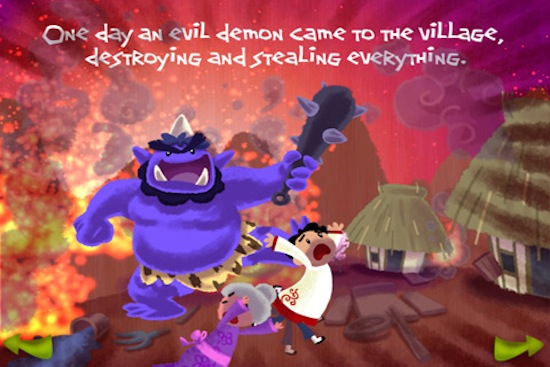 Will Momotaro find the demon that raided his village? What friends will he meet on his travels? Find out as you join Momotaro on this colorful and exciting 20-page journey, all in the name of UNICEF disaster relief.
App Features
Authentic Japanese Music, Sound Effects and Typography
"Read by myself" and "Read to me" options for different reading skill levels
Colorful and child-friendly interactive artwork
Great bedtime story with meaningful message
60% of profit goes directly to relief efforts
Touchscreen allows children to interact with story's pages.
Pricing and Availability
"Momotaro" is $1.99 for the iPhone and iPad and available worldwide from the iTunes App Store in the Education section. $1.21 of the funds will go to UNICEF's relief efforts in Japan. Users may also purchase and download the eBook from within the TouchyBooks app, which is free and available for download in the App Store in the Books section. Check it out over here: https://itunes.apple.com/us/app/id431624152?mt=8
Powered by

Sidelines
Previous Post Puckerz! Remastered (iOS) Massive Update 1.1 Unleashed in App Store