Egg Stacker (iPhone) Game Review: Simple Little Casual Treat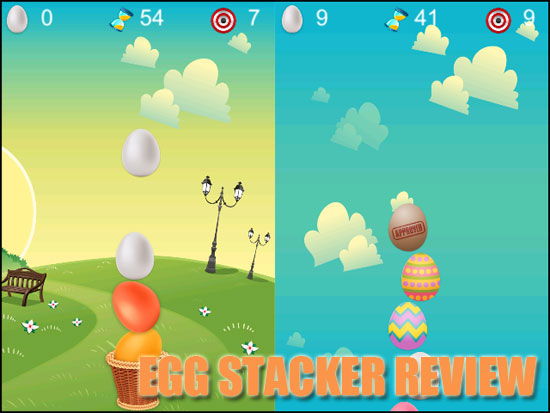 The guys and gals behind Egg Stacker must have timed the release of their app to be around the same time as Easter, but in any case, what does this simple game for iOS devices have to offer to casual gamers? For starters it's a pretty decent time waster. Players attempt to stack eggs on top of one another like a tower and in such a way that it doesn't topple down.
The unstacked eggs will appear on top of the screen, sliding from left to right, and players just need to tap anywhere on the screen to cause the egg to drop down to the top of the stack. Mistime the tap and the egg might miss the stack altogether or be left in a precarious position on top of the stack. This kinda reminds me of Jenga and with eggs (albeit virtual ones), the tension is there.
Egg Stacker has 11 levels, each with increasingly difficult objective of stacking more and more eggs, with more cute looking backdrops and egg designs to look forward to. Once the player completes all 11, he or she will gain access to the Endless mode. This is one simple game that is easy to pick up and it's probably a change of pace to all the Angry Birds out there.
Nine Over Ten 9/10 rates Egg Stacker at a decent 3.5/5.
Egg Stacker is available on the App Store for USD 0.99. Check it out over here: https://itunes.apple.com/us/app/egg-stacker/id425233177?mt=8. A review code was provided by Web 2 Mobile Design to Nine Over Ten 9/10 for the purpose of this review.
Powered by

Sidelines
Previous Post My Favourite iOS Things from the App Store
Next Post Dogs Playing Poker – The Canine Cardsharks Come to Mac