Puzzle Wars (iPhone) Review: 4 Way Pirates vs Ninjas vs Zombies vs Pandas Fight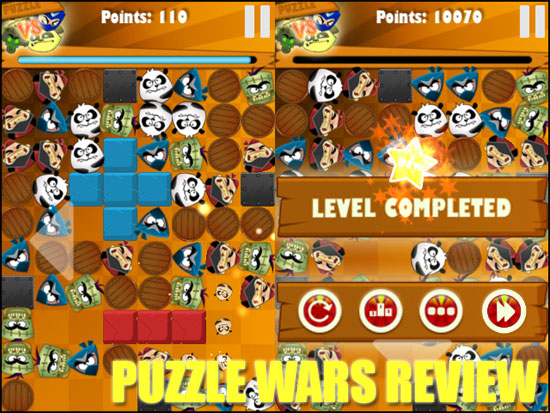 I've got to admit, match-3 games on the iPhone can get a little dull sometimes due to the fact it's pretty easy to line up a string of 3 same items. Pirates vs Ninjas vs Zombies vs Pandas: Puzzle Wars offers up something different (besides the crazy premise of having a 4-way fight between a bunch of unlikely characters) by being a match-4 game.
Players match four or more of the same bunch of characters, by lining them up Bejeweled style. This will cause them to explode, taking out any surrounding barrels and blocks of the same colour as the characters (e.g. Pandas take out White Blocks). The objective of the game is pretty simple in a sense that players are supposed to clear out the levels of their coloured boxes before the clock runs out.
Here's one of the best parts of Puzzle Wars. If you ever get stuck, just tilt the screen and watch the pieces fall into place. I managed to cause plenty of chain explosions simply by switching repeatedly from playing the game vertically to horizontally and back again. It's just crazy fun and is something that you don't get to see in say…Bejeweled (mentions of this game are unavoidable since it wrote the book on match-3 games)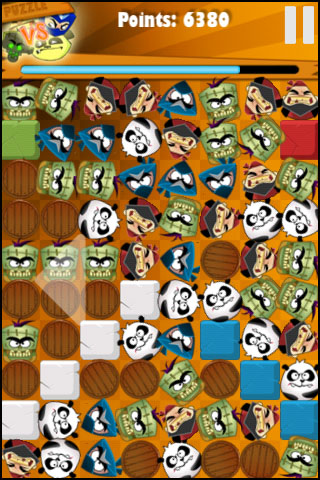 Puzzle Wars comes with a total of 40+ levels and Game Center support for online leaderboards. The game's really colourful graphics complement the gameplay well and I'm actually pretty surprised that there's not much buzz over such a well-crafted game. No matter, Nine Over Ten 9/10 awards Puzzle Wars with a 4 out of 5. Highly Recommended.
Puzzle Wars is now available on the iTunes App Store for USD 0.99. Check it out over here: https://itunes.apple.com/us/app/pvnvzvp-puzzle-wars/id407931583?mt=8. A review code was provided by Pan Vision AB to Nine Over Ten 9/10 for the purpose of this review.
Powered by

Sidelines
Previous Post inFAMOUS Comic Book Arrives On Bookstands
Next Post Archetype (iPhone/iPad) Gets New Update: New Content, New Game Mode And Many More