iOS 4.3 Personal Hotspot Don't Work That Well With DiGi/iPhone 3GS?
UPDATE: Now this truly sucks. You'll need to have an iPhone 4 in order to make use of Personal Hotspot's Internet sharing feature via WiFi. You know why this truly sucks? Well, owners of jailbroken iPhones can use MyWi to turn their devices into hotspots and share the connection over WiFi, and this is applicable to all iPhone models!
OK, this is a bit of a bummer. Having signed up for the iOS Developer Program last month, I though I would download the iOS 4.3 GM and give it a spin on my iPhone 3GS. One of the features that I wanted to check out was the Personal Hotspot, which enabled the iPhone to become a hotspot in which other devices can connect to it (via WiFi) to make use of the Internet connection, in other words, making the iPhone a portable modem/router.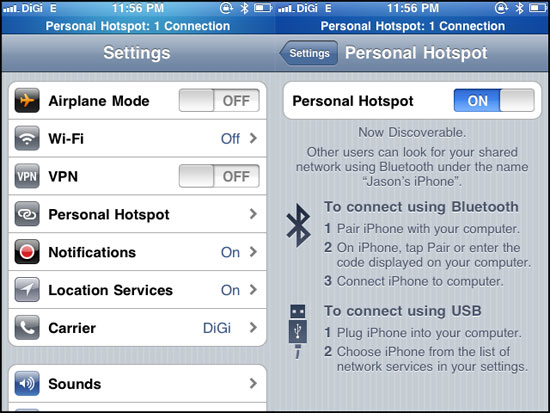 I'm not sure whether it's because of carrier restrictions (I'm on DiGi) or whether is it due to the phone, but there's no option for devices to connect to my iPhone via WiFi when it's in Personal Hotspot mode. The only way devices can connect are through Bluetooth or in the case of a single device, using the USB cable. The latter is because Personal Hotspot replaces the old Tethering mode.
Powered by

Sidelines
Previous Post Drop The Chicken About To Hit The App Store
Next Post Float (iPhone) Review: Who Knew Balloons Can Be Great