Volcano Escape (iPhone) Review: Hot Graphics and Gameplay Make For One COOL Game
Platformers are a dime a dozen on the App Store these days, and many of them are derivatives, never failing to move away from the standard formula that made hits out of games such as Doodle Jump and Monster Jump.  But sometimes, there are those who take the plunge, putting in more effort into their games so that they can be called genre-leaders in their own right.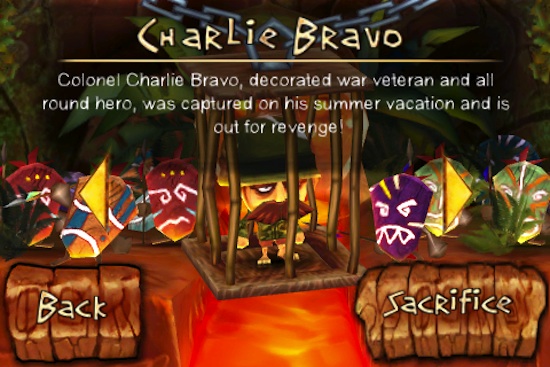 The premise in Bravo Game Studios' new action-platformer, Volcano Escape, is seemingly simple. Players are task with guiding Colonel Charlie Bravo out of the bottom of a volcano shortly after he was captured (on his vacation no less) and dropped into one by a bunch of jungle natives that kinda reminded me of Tribal Bob and the Manji Tribe (from the Jumanji cartoon series). The goal is to continuously move upwards while avoiding the ever-rising flow of lava.
Volcano Escape boasts pretty cool 3D graphics and textures, something different for a change for what normally is usually a 2D (read: flat) affair for these kind of platform games. The voiceover work reminds me of one of those Space Marines from the Warhammer 40K games on the PC.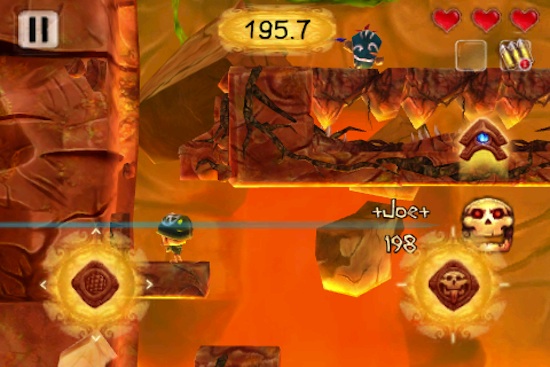 The control scheme in Volcano Escape is pretty straightforward, with two virtual analog sticks and one jump button. The left analog stick controls movement, and the one on the right, controls the direction of weapons fire. Players who are familiar with games such as Age of Zombies should be familiar with this. Some platforms which can either break apart or tilt necessitate the need to move fast, and the controls do well to assist.
But wait. Shooting? Hampering Colonel Charlie's efforts even further are the variety of tribal minions hanging around the platforms, making it necessary for players to not only jump, but also shoot their way out and this IMHO makes the game fun AND challenging at the same time. There are power-ups such as jetpacks and additional weapons to be collected to aid players in not becoming volcano god sacrifices. Players will also need to watch out for "generators" that churn out these minions. Destroying them would make life a lot easier as well.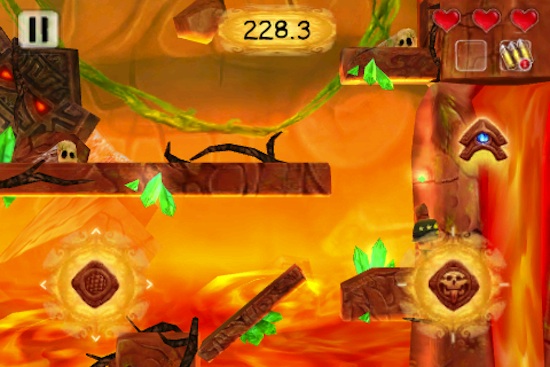 One added benefit from destroying enemies would be they turn into solid rock, these can double up as  platforms for you to jump on to reach higher ledges. Players may do well taking advantage of this feature, as the game includes Facebook connectivity, enabling you to easily compare your progress (in terms of height) with your friends, in-game! Volcano Escape completes the social gaming aspect by also providing Game Center for online leaderboards and achievements.
I came away from this game thinking that simply calling Volcano Escape a Doodle Jump clone with high quality 3D graphics and a dash of Indiana Jones (or Tomb Raider) wouldn't be doing this game justice. Bravo Game Studios' has delivered an amazing action-platformer in Volcano Escape and it truly deserves to be one of the highlights of the genre on the iPhone.
Nine Over Ten 9/10 rates Volcano Escape at 4.5 out of 5 STARS. HIGHLY RECOMMENDED.
Volcano Escape is available on the iTunes App Store for USD 1.99. Check it out over here: https://itunes.apple.com/us/app/volcano-escape/id412706315?mt=8. A review code was provided to Nine Over Ten 9/10 for the purpose of this review.
Powered by

Sidelines
Previous Post Speedy Biker (iOS) Gets Update, Bump in Ratings
Next Post Romance of Rome Gets Released On The iPhone and iPad