Puckerz! (iPhone) Game Review: Get This Game Now!
It's pretty interesting sometimes to see an indie studio's first offering standing head and shoulders above the sophomore or subsequent offerings from other studios on the iTunes App Store. One such example is Puckerz! by Groundbreaking Games (how apt), a really polished arcade game that combines both pinball and breakout-style games, and appeals to both casual and hardcore players.
Players are tasked with launching around a puck in a destructible environment in order to collect as many orbs as they can before the time runs out. Each level contains a minimum level of orbs to be collected in order to proceed to the next level. To add to the challenge, levels are populated with bricks, impenetrable blocks and traps such as mines. There are object and power-ups as well to help the player with their tasks, ranging from pinball-like bumpers, cannons, to things that give the puck a boost in speed and distance.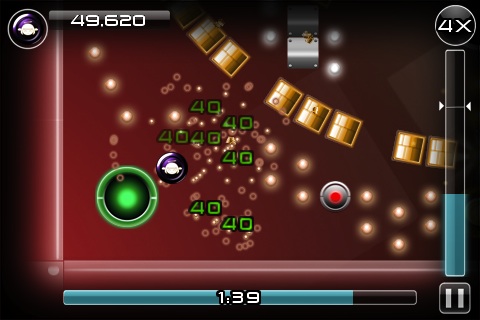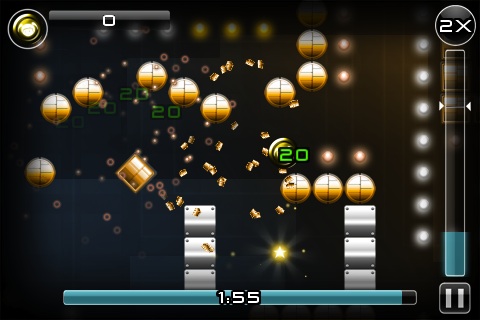 There's plenty of stuff in Puckerz! that impressed me. Firstly the controls were responsive and also the great physics that were used in the game. Levels are nicely populated with a lot of stuff; while casual players may be content with launching the puck to just about anywhere, veteran players looking to beat the clock and gain the maximum amount of orbs in the process will need to plan their moves, just so that they avoid the myriad of time-penalty traps available in each level.
The graphics complement the gameplay very well, not too showy (unlike something like say, Geometry Wars) and not too simple either. Even the social gaming aspect is covered by not one, but two of the usual suspects: Game Center and OpenFeint. The developers have done such a great job with the game, all I can say is that it's a great Pucking experience! If you have just 99 cents today, make sure you get Puckerz!
Nine Over Ten 9/10 rates Puckerz! a deserving 4.5 stars out of 5. Highly Recommended.
Puckerz! is available on the iTunes App Store for the iPhone for just 0.99 cents. Check it out over here: https://itunes.apple.com/us/app/puckerz/id414440864?mt=8. A review code was provided by Groundbreaking Games to Nine Over Ten 9/10 for the purpose of this review.
Powered by

Sidelines
Previous Post Gameloft Announces Valentine's Day Sale for iPhone & iPad Games
Next Post Play-Asia's Lucky Lunar New Year Sale 2011 Is Here – Stock Up On Video Games