Eggs in Space (iPhone) Game Review: Splatting Fun!
Eggs in Space for the iPhone is one of those casual games that you can spend an entire afternoon on, and think nothing of it (in a good way). Make no mistake, there's something fun (or inane, depending on the person, afterall, gaming experience IS subjective, no?) in tapping and cracking a whole bunch of alien eggs as they come flinging towards you.
Some of these eggs however are "easter eggs", read: they are booby-trapped. Tapping on these eggs can cause your screen to turn 180 degrees or lose one of the three lives that you start of with. The levels become more and more difficult as you progress, as the eggs that you are supposed to crack get crowded with the booby-trapped one, making hand-eye coordination a must (this game is for the kids, I'm pretty sure they'll love it).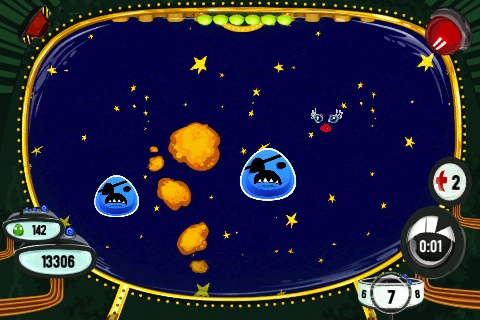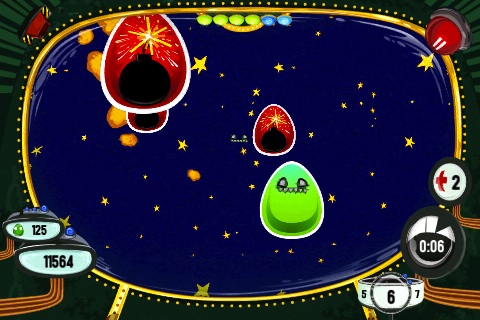 There are some power-ups to be had, there's the sausage bomb and also the bread that gives additional live (I'm not really sure whether the developer intended to put in any religious analogies here), making live a little easier but no less challenging for the players battling the alien egg invasion. Social gaming aspects are covered by both OpenFeint and Game Center.
Eggs in Space is one casual game I'll recommend to anyone with a lazy afternoon or for a quick 5 minute joint. It's easy on the kids too, with nothing more than eggs going splat when violence is concerned. Nine Over Ten 9/10 rates Eggs in Space a 4 out of 5 well…eggs, I mean stars. RECOMMENDED stuff.
Eggs in Space is available on the iTunes App Store for USD 0.99. Check it out over here: https://itunes.apple.com/us/app/eggs-in-space/id409325325?mt=8. A review code for the game was given to Nine Over Ten 9/10  by publisher The Lonely Bee for the purpose of this review.
Powered by

Sidelines
Previous Post Fruit Frenzy (iPhone) Game Review: Fun, Whimsical Match-3 Game
Next Post Going Underwater with Google's Jules Verne Doodle: Interactive Bathysphere!