Hyper Facts (iPhone) Review: Don't Believe The Hype
During the past couple of weeks, I received requests to review iPhone apps that were not games. For starters, one was a business e-book kind of thing (I haven't gotten about reviewing that app…yet), while the other, now this is interesting, was an amped-up search engine app called Hyper Facts. Curious to see how the latter worked, I proceeded to apply my very own litmus test to the claim from the developer that Hyper Facts is a convenient and very useful app that allows you to search for facts about famous people, works, topics, events, places and more.
Since Malaysia won the Suzuki Cup (a regional football tournament, for those not in the know), I decided to search for details on the hero of the match, Malaysian goalkeeper Khairul Fahmi. During the course of the match, his name became a worldwide trending topic on Twitter, and his efforts during the match was lauded as the reason why Malaysia won the title on aggregate. So….what did I get on Hyper Facts? Nothing: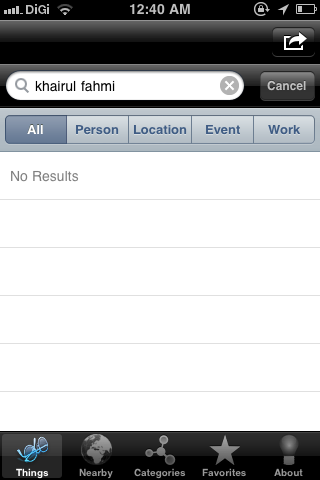 What about the AFF Suzuki Cup? Nothing as well. It looks like this litmus test is going nowhere until I decided to key in the name of Malaysia's current Prime Minister, Najib Tun Razak. Bingo, some facts at last. To its credit, Hyper Facts lists out in comprehensive fashion the Categories in which Najib is included in (this includes "Political Scandals in Malaysia) and his Relations (ah…curious to see Abdul Razak Baginda listed here) as well…all these are like nodes that can be clicked on in order to view information or to reveal their own nodes. The Facts portion dishes out morsels of information such as date of birth, occupation, children, spouses (Najib has an ex-wife, did you know that?), etc etc.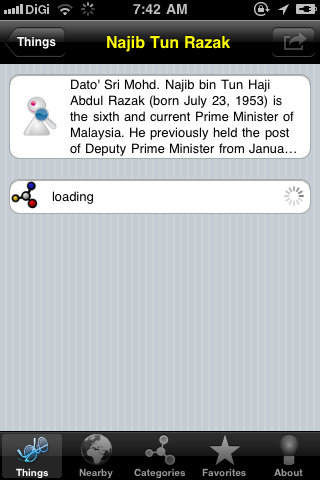 On a good day, Hyper Facts can prove to be an invaluable research tool, but there are pretty obvious gaps here, so much so that the app may or may not work for you. This makes me wonder as well as to when new "facts" are added to the Hyper Facts database. Another point to note that the app is slow, even over WiFi. In any case, Hyper Facts is available on the App Store for USD 1.99. Check it out over here: https://itunes.apple.com/us/app/hyper-facts/id405845897?mt=8. 3 out of 5 STARS. Mileage may vary :).
Powered by

Sidelines
Previous Post NinjaTown: Trees of Doom! (iPhone) Game Review: These Wee Ninjas Will Win Your Heart
Next Post The Mystery of the Crystal Portal 2: Beyond the Horizon (iPhone) Game Review: Doesn't Disappoint