TRON: Legacy (iPhone) Game Review: Potential Lost
I didn't want to review the TRON: Legacy app for the iPhone until I caught the movie at the cinema. Well, I watched the movie today and while it was awesome (can I get a lightcycle next Christmas), I can't say much about the app. Disney Mobile's TRON: Legacy app follows the trend set by their earlier TRON app by offering several games in a single package, in this case, light cycle racing and a new game which was not featured in the film which involves flying around in a Recognizer shooting stuff.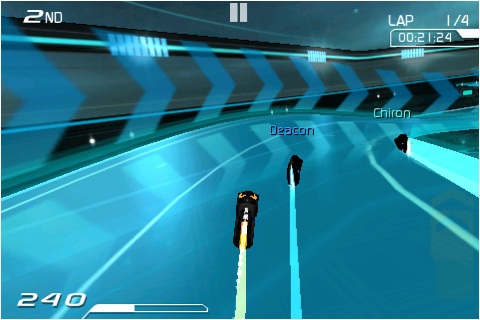 The light cycle racing portion kinda reminds me Speed Racer on the DS, with winding tracks and crazy amounts of speed. But while Speed Racer succeeded in being a kind of pseudo F-Zero on the DS, racing on TRON: Legacy is a wreck partially due to controls. The game seriously needs a virtual analog stick and all this amount of tilting around just about sucks. Crashing is the order of the day here in something that has plenty of potential. Here's to hoping to someone at DM coming up with an update for this.
The Recognizer portion of the game is essentially an on-rails shooter. Tilting the device aims the cannon and players have to be careful though as tapping too fast to fire the cannon will result in the cannon overheating. Enemies occassionally drop health packs that you'll need to shoot in order to regain health. There's nothing really outstanding in this portion of TRON: Legacy, and unlike the light cycle races, this feels like an unnecessary tack-on. Having Disc Combat on board would have been a better choice.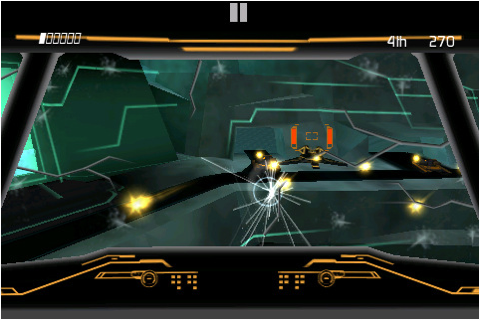 TRON: Legacy features multiplayer for both sub-games with trophies provided for via Game Center, but this does little to alleviate the anemic gameplay in both modes. In any case, this disappointment is somewhat alleviated with the existence of Disney Mobile's earlier TRON app which offers both 2D Light Cycles (combat mind you, in a grid, and not racing) and Tanks (this you should check out for yourself). And that app is available for free: https://itunes.apple.com/us/app/tron/id381432246?mt=8.
TRON: Legacy however, is a case of lost potential and even though it's being sold for 99 cents on the App Store, I find it a little hard to recommend: https://itunes.apple.com/us/app/tron-legacy/id389193864?mt=8. 2 1/2 STARS. MEDIOCRE.
Powered by

Sidelines
Previous Post Has Handheld Gaming Changed Your Console Gaming Experience?
Next Post What Did You Get For Christmas?