Gravity Guy (iPhone) Game Review: Running on the Ceiling Was Never This Fun
Try this, find the quietest spot in your house, or wherever you at, best with no distractions. Sit down and get comfortable with the iPhone in hand and start playing Gravity Guy. I'm pretty sure this is one game on the iPhone that you literally cannot allow for a momentary lapse of concentration.
Miniclip's Gravity Guy is a 2D platformer, specifically the running type, a sub-genre that has made the iPhone a comfortable home. With luminaries such as Tune Runner and Chop Chop Ninja for company, how does this new addition distinguish itself? Well, by turning gravity on and off. At risk of sounding like a smart alec, the game's mechanics really does involve flipping gravity, so much so the protagonist, Gravity Guy, will find himself running up-side down.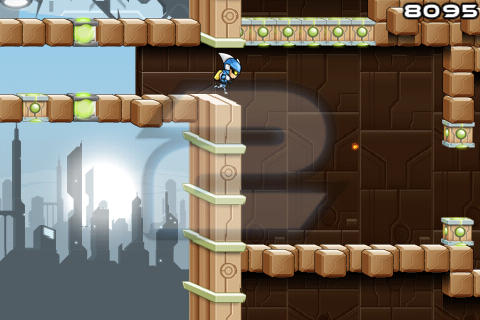 In the case of Gravity Guy, levels are practically marvelous looking 2D puzzles; players have to decide when to tap on the screen to flip gravity in order to get over obstacles or jump across platforms. Chasing the protagonist is the Gravity Police and players will need to be "on the bounce", timing gravity flips so that Gravity Guy will have a healthy lead over the bad guys. Allowing them to catch up to him would mean a restart at the nearest checkpoint.
I'm not sure about everyone else, but Gravity Guy does foster a love/hate relationship between the player and the game. Don't kid yourself, this game IS tough, requiring hand/eye coordination that almost borders on frustration but at the same time, I found myself thinking "just one more try, I was "this" close to the next checkpoint" every single time I failed. It was hard enough with every restart, but it was harder still to pry myself from the game to write this review.
The game features Game Center for online leaderboards and achievements, but sometimes, I really have to question why certain discrepancies like the following screenshot happen. The score isn't mine, but compare it to the 2nd closest score and it's totally unbelievable.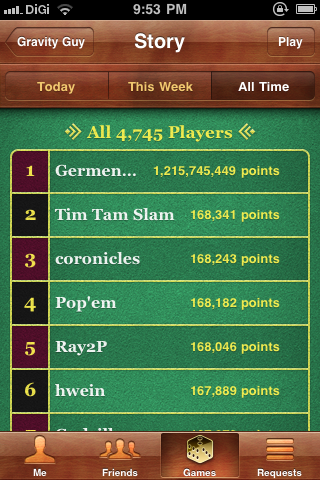 Leaderboard scores aside, Gravity Guy dishes out a challenging AND addictive gameplay experience on the iPhone and fans of this genre certainly need to get this game. Gravity Guy is available on the App Store for the iPhone for just USD 0.99. Check it out over here: https://itunes.apple.com/us/app/gravity-guy/id398348506?mt=8. RECOMMENDED.
Powered by

Sidelines
Previous Post Crazy Critters (iPhone) Free for 24 Hours in Conjunction With Christmas!
Next Post Assemblage (iPhone) Game Review: Block Stacking Done Right