Hamburger Hunter (iPhone) Game Review
Hamburger Hunter for the iPhone is just one of those games with an identity crisis. It looks like one of those Double Dragon games but has the difficulty level of say…Contra. Couple this with really lousy controls (imagine playing Contra with tilt controls to move the fella forward….OMG) and you'll get something that any sane reviewer would not try to recommend to anyone except for those afflicted with sadomasochism.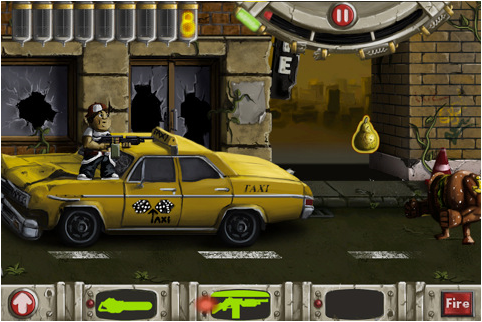 I played the game for half an hour just to find any redeeming value but the controls are such a frustrating problem that even the decent graphics (the game is about a guy bashing and shooting hamburger/hotdog monsters) plus the Game Center connectivity (always a favourite) cannot help such a broken game. The guys behind the game, Navigation-Info Kft had produced a pretty decent game in PipeRoll (see review here), and this is a disappointment.
Hamburger Hunter is available on the App Store for USD 0.99 but unless the developers come back with revised controls, you are better off getting other, better games: https://itunes.apple.com/us/app/hamburger-hunter/id401845547?mt=8
Powered by

Sidelines
Previous Post Age of Zombies (iPhone) Review: Can't Get Enough of Steakfries and Zombies
Next Post Black Friday Video Games Shopping? This App Is Going To Help You (Android/iPhone)