ElementalMonster TD (iPhone) Game Review: Excellent Cut-Priced TD With New CCG Tricks
It's been a while since I last touched ElementalTD on WarCraft III but I just had to download the latest version for a spin (the game and I go a long way back, serving as an introduction to the whole Tower Defense genre that I've become..um..addicted to). The new version seems to have brought upon the "mental" part of Elemental. I ended up being pwned at level 32. Anyways, the reason for re-visiting a WarCraft III classic was due to a chance encounter with ElementalMonster TD for the iPhone.
The iPhone game was pretty interesting, considering that the developers, Hudson (the ones behind Bomberman), decided to add a card-collecting element (simpler than hardcore CCGs like Magic: The Gathering) on top of the normal path-based Tower Defense gameplay, in which creeps attempt to move from one point to another via a path. Cards are unlocked after successfully completing a level and these cards can be then be purchased from the Shop using gold earned from completing levels. These cards can be then used to build decks which upon selection (after choosing a level) will determine what towers you can build in that particular level.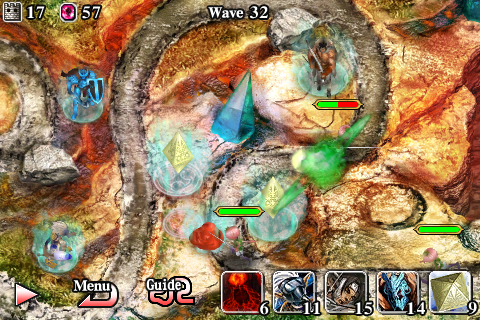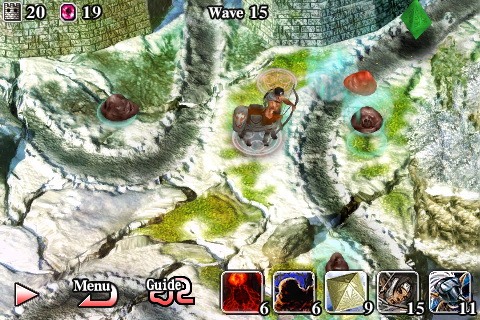 The towers themselves take the form of monsters. Some of them come with Special Powers that can be unlocked throughout the course of a level, and all of them can be upgraded, giving them more damage and range. Among the best aspects of ElementalMonster TD is that the monsters just don't sit back and fling stuff like how towers behave in other TD games, but they'll approach and attack (and chase) the creeps that come within range! I didn't expect such a well..animated..response and it's really cool watching the game in action.
Like the desktop counterpart, this game immediately sieges you from the get-go. The first level I played had 50 waves of creeps. That's a lot and for a handheld game it's a little too much if you are looking for bite-size gameplay. But then again, almost any TD game will have you in for the long haul, it's just that ElementalMonster TD gives you double for the money. The game was last update in December 2009, and while there's no Game Center support, there's good ole OpenFeint.
Hudson has slashed the price of ElementalMonster TD from USD 3.99 to USD 0.99, making it a cut-price hit worthy of inclusion in any iPhone-based TD fan's game library. You can check it out over here: https://itunes.apple.com/us/app/elementalmonster-td/id307986363?mt=8. RECOMMENDED.
Powered by

Sidelines
Previous Post Guns'n'Glory (iPhone) Game Review: Tower Defense with Cowboys and Indians
Next Post Jury Shortki Releases Towers vs. Dragons for the iPhone/iPod Touch