Vikings Row (iPhone) Game Review
Take one part Toobin, add in some Vikings (and some gold) and some killer obstacles and you get Vikings Row for the iPhone. In each level you are supposed to row/steer the Viking longboat to collect as many gold coins as possible, and to pass each level, you'll need to at least collect enough gold to obtain a Bronze Shield.While I'm familiar with this kind of gameplay, having reviewed Canoe Slalom some time back) I was pleasantly surprised with the level of depth and re-playability offered by Vikings Row.
For starters, there are plenty of nooks and crannies in each level where rich rewards lay, but since you'll be rowing (by sliding your thumbs on the screen) against the clock, you'll need to decide whether the detour and the resulting obstacles are worth running out of time for. If you do manage to collect all the gold in a particular level, you'll receive the Gold Shield instead. One thing about obstacles, hitting some them will result in the loss of live and if you deplete the 5 lives given to you at the start of each level, it's game over. Other obstacles such as whirlpools serve to slow you down.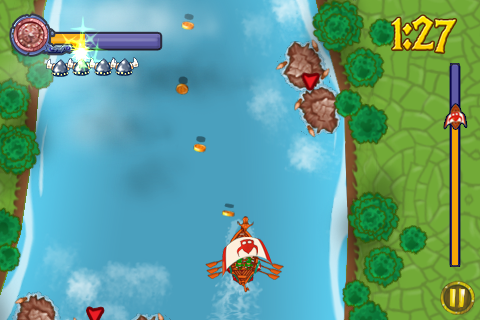 Aiding players are power-ups located throughout the level. One of the more important ones grant a Berserker mode in which the longboat is invulnerable to damage when it comes to hitting obstacles. Another power-up extends the amount of time needed to finish a level. While not a power-up, rapids serve to speed up the longboat, but you'll have to becareful as it's difficult to steer at high speeds.
Viking Row takes the players through six Worlds, through the Viking's native land of Midgard, to the depths of Hel (no typo here) and then to Valhalla. Each of these worlds contain 8 levels and that's a whopping 48 levels. Couple this with the nooks and crannies of each level, Viking Row boasts an impressive level of re-playability. While in 2D, Viking Row takes its art direction seriously and the menu screen, often overlooked in most games, is a Viking longboat with buttons incorporated into it. In-game, the levels are well animated and each World has it's own distinctive look and feel.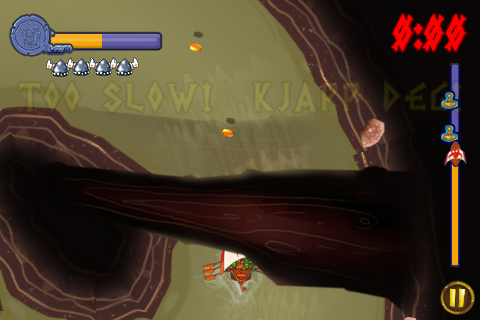 The only gripe that I have against the game at the moment is that Viking rock soundtrack that is repeated over and over again. The game does offer achievements but disappointingly it's not tied to any of the online leaderboards such as OpenFeint or GameCenter. This however does not detract from the joy in playing the single player game.
Vikings Row is now available on the App Store for just USD 0.99, check it out over here: https://itunes.apple.com/us/app/vikings-row/id389157095?mt=8. Recommended!
Powered by

Sidelines
Previous Post Watch the Trailer for Zombie Ala Mode (iPhone)