Pig Shot (iPhone) Preview: Roll Roll Roll Your Pig….
Bird Strike has Gerard, Monster Jump has that cute little orange monster (if he's red, well, my apologies, I'm apparently colour blind) and what's the latest in "distance games" on the iPhone, Pig Shot, has to offer? Well, a rolling pig launched from slings located in each level. Normally this would be enough to illicit some laughs (I did, you would too once this game is released to the general public in the App Store), but the developers threw in several extras to ensure that the game doesn't turn into a one trick pony, I mean pig.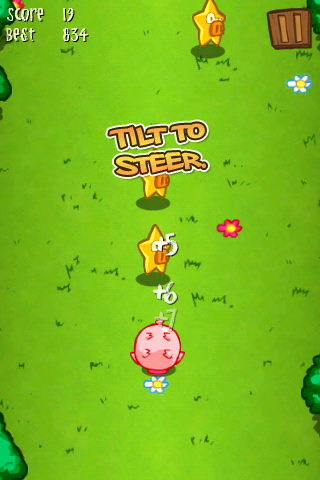 In order to move the pig around to eat stars sprinkled on the level, or even obstacles players will need to tilt the iPhone left or right. The challenge here is to ensure that the pig keeps rolling from one sling to another and if the pig rolls to a stop or hits an obstacle, it's game over.There are several power-ups available, namely one that temporarily boosts the pig's speed and another that allows the pig to release gas, useful in order to keep the pig from rolling to a stop.
Powered by Unity Engine, the game is pretty much "there" for a preview copy, the only problem I have is that sometimes the distance from one sling to another is just too far, and since levels are randomly generated, this frustration is an on-off thing. Well I hope the developers can get to work on the maximum distance slings can be located from each other.
Stay tuned to Nine Over Ten 9/10 for more news on Pig Shot.
Powered by

Sidelines
Previous Post Shady Puzzle (iPhone) Game Review
Next Post Check out the iPad Orchestra (Video)