When Shitty Games Get 5-Star Ratings on App Store
I was ask to review a game several weeks ago, titled Crazy Shapes (iPhone) by Grumpy Dodo. It wasn't a good experience and I thought that the whole game was just some amateur experiment that basically gave indie developers a bad name. In any case, I decided to check out the reviews left on the game in Apple's App Store…guess what, the average rating was 5 stars. A pretty shitty game with a 5-star rating? You've gotta to be kidding me.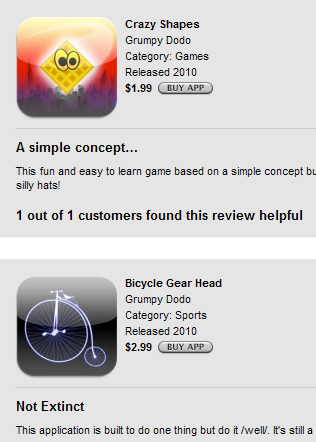 Curious, I decided to check out the reviews. 3 of the reviews came from users with 2 reviews to their names, and the second review happens to be for another game created by Grumpy Dodo (see image above). While there are several genuine reviews (there's one disguised as a genuine review, from the game's creator himself), the majority are reviews from users who have not reviewed anything else. One would think that if you are going to genuinely spend USD 1.99 on a shitty game and then put down a review, there would be probably other shitty games that you would be dropping reviews on. No?
Anyways, I'm going out of my way here to say, no, don't spend your money on Crazy Shapes,  in fact don't buy anything made by Grumpy Dodo. Go buy something else, like Linkin Park's 8-bit Rebellion (https://itunes.apple.com/us/app/linkin-park-8-bit-rebellion/id362709717?mt=8)
Powered by

Sidelines
Previous Post Superman: Red Son and Reading Comics On-the-Go