Glow Puzzle (iPhone) Game Review
I always wondered why people go through the trouble of taking IQ tests. While intelligence quotient may be important, I'm pretty sure that some of the tests are actually frustrating little puzzle games. One of these examples would be to trace a route between a bunch of connected dots without having to reuse any path that has already been made. True enough the guys and gals at Nexx Studios took the concept and made it the basis of their cool iPhone game, Glow Puzzle.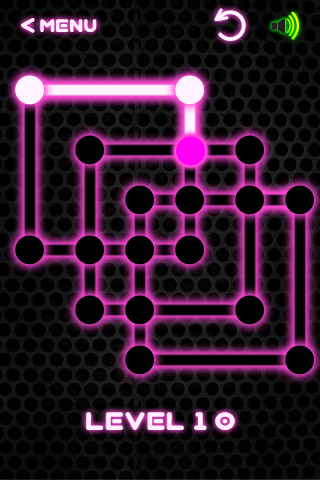 Glow Puzzle's concept is pretty simple, connect the dots on a continuous path without reusing any previous paths established in your previous moves. All this is presented in a neon-coloured user interface, making the game a real looker to behold. It's safe to say that despite this simple premise, Glow Puzzle gameplay is top notch and is hard to beat even in the puzzle game genre. I already had my head cracking at Level 10 and while I'm pretty sure I'm a smart guy, I wouldn't want to see these puzzles in an IQ test.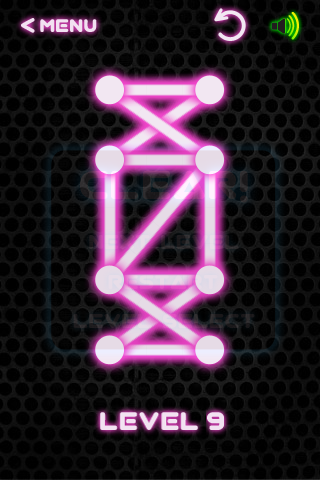 Thankfully solutions are given and you can utilise them when you are stuck, but try not to give in too easily as it draws away from the experience of solving a puzzle without having to look at a bunch of hints. While the game is free (with 25 puzzles), you can actually purchase additional puzzle packs in-app, and these offer 75 to 130 puzzles for just 99 cents a pack.
The free game is enough to drive most people up the walk (in a good way), but hey don't just take my word for it. Download the game over here: https://itunes.apple.com/us/app/glow-puzzle/id370410649?mt=8
Powered by

Sidelines
Previous Post Apple Announces 4th Generation iPod touch: Bye-bye Nintendo DS, PSP
Next Post Indie Dev Koolfing Releases Whack'N Roll for iPhone/iPod touch